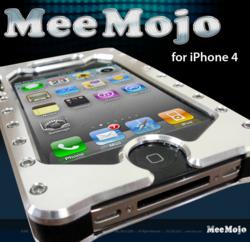 Our designs are definitely attention getters, very unique and edgy
Mississauga, Ontario (PRWEB) May 09, 2011
MeeMojo.com has released its new billet aluminum iPhone4 case, engineered specifically to combine the protection of an aluminum case while not interfering with phone functionality.
"As much as consumers love the idea of an aluminum case, the constant disruption of the phone's function caused by the metal was a real problem" said Petar Todorovic, the owner of MeeMojo.com. Signal degradation resulting from RF interference has been resolved with the design of a proprietary RF Neutral Polymer Isolator, which allows for the use of an alloy material as a case without compromising signal quality.
"We spent months perfecting the engineering, and once we found a way to make it functional, we went to work on aesthetics. Our designs are definitely attention getters, very unique and edgy. We couldn't be happier with the results," said Todorovic. The company has released two styles for its initial launch, with more styles and color options being developed. Each case is assembled using polished stainless steel fasteners, assuring a precise fit for the iPhone4. Cases can be seen and purchased at MeeMojo.com.
# # #