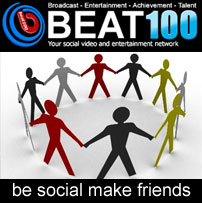 The BEAT100 video network also includes the 'quick view' option on videos.
(PRWEB) November 08, 2012
The new social Network BEAT100.com combines the sociability of Facebook with the music promotion and video sharing of sites, such as MySpace and YouTube. Although sharing between these sites is not uncommon, BEAT100 wanted to integrate these concepts into one place, whilst providing added features and usability for an increasingly complex social network.
BEAT100 features include four social pages; My Wall, My Feed, Public Wall and Look Who's Talking. Each of these pages includes a different function, enabling users to organize their posts. The My Wall page will be a personal wall for each user, meaning they can only see their own status updates, posts and their friend's posts on their wall. The My Feed page then allows users to view separate posts from their friends, including status updates, videos and votes. The Public Wall will include posts from everyone using BEAT100 who wishes to make a particular post public, therefore gaining a much larger audience on anything they wish to. Finally, the Look Who's Talking page will feature anyone who is currently active on BEAT100 at the time, making it easier for users to add other people on the network and begin making active BEAT100 connections.
Not only can users socialize through the use of these four walls, but BEAT100 also includes a live chat feature, enabling users to have private conversations in real-time. Users have the option to turn the feature off at anytime, or can change their availability status. However, if BEAT100 users want to chat to a friend or fan who is offline, the option to send a private inbox is still available for use. For more information on BEAT social network click here