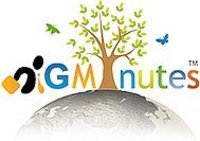 We will continue our quest for the creation of a paperless office. By adding the GMinutes Facebook application we are making it easier for our users to access their meeting minutes, action items, and save tree's by conducting www.gminutes.com [paperless meetings]
Santa Clara, CA (PRWEB) April 22, 2009
In celebration of Earth Day, Palmchip Corporation is announcing the availability of the GMinutes Facebook application. The GMinutes Facebook application will allow Facebook users the ability to access GMinutes through their Facebook accounts and check their meeting minutes and action items on the popular social networking site. Facebook users can invite other Facebook users who will also be able to benefit from the paperless meeting minutes application.
"We will continue our quest for the creation of a paperless office. By adding the GMinutes Facebook application we are making it easier for our users to access their meeting minutes, action items, and save tree's by conducting paperless meetings," Palmchip CEO Jauher Zaidi stated.
Organizations can benefit from GMinutes by automating meeting minutes, reducing administrative costs and create a greener work environment by reducing their carbon footprint. Getting started is as easy as creating a meeting space, adding relevant people to it, and assigning action items. Users can then access their meeting minutes, track action items, and schedule meetings from across the globe from their PC, Mac, iPhone, Blackberry, and other mobile devices.
For more information; please visit http://www.gminutes.com .
About GMinutes:
GMinutes is a web-based cloud computing application which globally manages your meeting minutes. GMinutes allows you to write, read, track and share meeting minutes in a professional and organized manner. GMinutes is designed as a green paperless meeting minute's management application. GMinutes makes it easy to schedule meetings, keep tabs on assigned work via status updates, and keep a record of all details, decisions, and commitments made during a meeting.
About Palmchip:
Founded in 1996, Palmchip Corporation is a global leader in connected and secure technologies. Palmchip provides hardware, software IP, and design services to its clients in the U.S, Europe, and worldwide. Palmchip's Mobile Software Group develops and markets Cloud Computing applications (SAAS) which run on the iPhone, Blackberry, Google G1, and other mobile devices.
For more information please visit: http://www.palmchip.com .
###