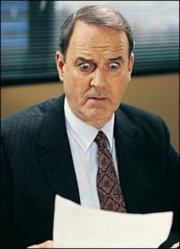 Seattle, WA (PRWEB) June 26, 2013
Meetings Bloody Meetings has created a significant opportunity for Carlton's Training Solutions Jack Cash to change the way companies handle meeting management. Companies can struggle with the time commitment to meetings and their lack or focus or even necessity in regards to company goals and individual job roles. Carlton's Training Solutions Jack Cash contends that the new edition of Meeting Bloody Meetings can provide a reprieve to those suffering in a meeting management purgatory.
The fact that the mere word meeting seems to illicit yawns and what seems to be a mass hypnosis of slumber should surprise no one. What is surprising is that the new take on this subject is not just one that keeps eyeballs popped wide open but also ears piqued to the sound of uproarious laughter filling the walls of said meeting. John Cleese has been famous for making people laugh in this manner but the fact he's now accomplished this feat in the workplace tackling the most boring of subjects should garner him some type of award.
John Cleese training videos have long been a great escape for employees that simultaneously educate employees on precisely what managers and employers are dying to instill in their people. It could be synonymous with putting undesirable peas in with the coveted buttery mashed potatoes on an unruly child's plate, only to see them happily scarfed down and requesting more. And more is what John Cleese continues to provide.
The fact that employees feel like they are taking a break from work is only one facet of why a John Cleese video continues to draw audiences all over the corporate world. Their implementation has created such a stark learning curve that one doesn't need to ponder the benefits for the companies that use John Cleese Meetings Bloody Meetings or any other of his hilarious and thought provoking training videos. Audiences are attentive and engaged and thus learn at a higher rate than their counter parts that are instructed personally or even with other programs lacking this level of humor and sophistication.
Carlton's Training Solutions Jack Cash established strong ties to organizations by implementing training with programs like Meetings Bloody Meetings. The program is rare in its humor and insightful in its delivery. To see a free online preview of Meetings Bloody Meetings or know more about this company click on their site at Carlton's Training Solutions Jack Cash.