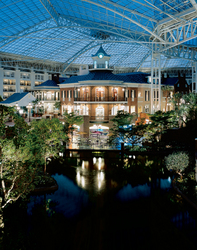 With our new catering menus, there is no sacrifice in the quality of ingredients, creativity, integrity, flavor or presentation. This is about taking some of the stress out of the process and the bottom line
Nashville, Tenn. (Vocus) February 20, 2009
As the premiere meetings and conventions resort in the nation, this Nashville, Tenn.-based property has revolutionized hotel food for one simple reason: the experience. The award-winning culinary leaders at Gaylord Opryland Resort & Convention Center know that meeting professionals and their attendees crave two things when it comes to food and beverages: an unforgettable experience and great value. World-class food and beverage options with straight-forward pricing are on the menu at Gaylord Opryland, and the planning has just been made easier.
"The economy is dictating that every dollar spent on meetings and events in 2009 must have value attached. A reliable property with a history of providing high quality food and beverage will have the client's confidence this year, and the ones that don't will be left behind," said Michael Costa, Industry Relations Editor at Hotel F&B magazine.
At the nearly 1,500 conferences held at Gaylord Opryland annually, approximately two million meals are served. Executive Chef Michael Swann has combined his passion for culinary creativity and his business savvy, creating new, more user-friendly catering menus with tighter budgets in mind.
"With our new catering menus, there is no sacrifice in the quality of ingredients, creativity, integrity, flavor or presentation. This is about taking some of the stress out of the process and the bottom line," explained Chef Swann, executive chef, Gaylord Opryland Resort & Convention Center. "We also will continue to offer our signature items and our extreme personal attention to planning and can tailor any event to the needs of our customers with trendsetting recipes, design and concepts."
Swann is known in the industry for his ability to deconstruct the standard banquet concept, instead employing the concept of "mass customization," ensuring each banquet's food is unique and refreshing. This approach is receiving attention and accolades, as Gaylord Opryland Resort has been a recent three-time winner of Meetings & Conventions "Gold Platter Elite" award for its exceptional service, creativity of menu, quality of food presentation and helpful budgeting considerations.
The new menus are designed to provide guests with a different experience each day and include gourmet White Lion Teas, creative snack breaks with New York-style pretzels with fillings or Italian ices. One dinner example includes pan-seared Adriatic snapper with artichokes, Crimini mushrooms and spinach served with gorgonzola polenta cakes and garlic butter sauce. The menus include everything from regional fare to international cuisine.
Away from the banquets, meeting attendees have almost a dozen places in which to dine or snack at Gaylord Opryland -- four of them signature restaurants with internationally trained culinary teams.

Old Hickory Steakhouse, set in an antebellum-style mansion with a stunning view of the indoor Delta River and gardens, serves the ultimate dining experience with elegant, exquisitely prepared traditional steakhouse fare. Old Hickory Steakhouse has been honored as a Distinguished Restaurants of North America (DiRMNA) award winner, as well as "best wait staff" by At Home Tennessee readers in 2008.
Ristorante Volare, offers a true authentic Italian meal in a lush and serene garden setting.
Cascades Seafood Restaurant, situated among sparkling waterfalls, changes the menu seasonally to provide fresh ingredients year-round.
Water's Edge Marketplace Buffet, provides diners with a wide range of global flavors from which to choose, prepared by chefs working in front of the guests at stations where the food goes straight from the pan to the plate.
Convention-goers can rest assured that Gaylord Opryland Resort offers much more than typical resort-style food. Striving every day to ensure an individual, client-tailored experience, Gaylord Opryland chefs are hard at work, creating delicious and unforgettable culinary masterpieces that will be a highlight of any event.
To receive a copy of the new menus, or for more information on any of the food and beverage options at Gaylord Opryland Resort & Convention Center, please visit http://www.gaylordopryland.com or call 1-888-999-OPRY (6779).
ABOUT GAYLORD OPRYLAND NASHVILLE
Gaylord Opryland Resort & Convention Center - the largest non-gaming in-hotel facility in the continental United States - is known for providing superior products and services to the meetings and convention industry. Winner of numerous prestigious awards including the Paragon Award from Corporate Meetings and Incentives in 2008, the coveted Gold Key Elite Award in 2002, 2003, 2004, 2005, 2006 and 2007 and Gold Platter Elite in 2004, 2005 and 2006, as well as a nine-time winner of Southern Living's "Reader's Choice Awards." Gaylord Opryland Nashville is the flagship property of the Gaylord Hotels brand owned by Gaylord Entertainment (NYSE: GET), a leading hospitality and entertainment company based in Nashville, Tenn. For more information, visit http://www.gaylordentertainment.com or http://www.gaylordopryland.com .
# # #