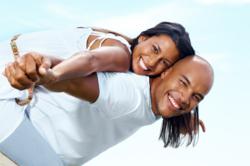 No offense to the men out there, but is it really fair to have 2/3 more women in the room?
Dallas, TX (PRWEB) April 17, 2012
Meet n' Mix just launched and is truly re-inventing how a person views Dating Sites. Learn how Meet n' Mix is different below:
No Monthly Fees, Just Credits or Tickets:
Profiles are free - meaning no monthly membership fees - and give people access to the unique features of View Me, Meet Me and Match Me. The only singles site that allows people to share social media ID(s) on their profile. People never have to chat or message because social networks exist. Why charge to do something that's absolutely free on social networks like Facebook or Twitter? Feel empowered to unlock crucial contact information and connect with members via their own social network with View Me's. Ultimately, Meet n' Mix encourages people to get offline and participate at fun professional events. Meet n' Mix events are designed for a purpose and it's explicit in the type of event. Every ticket includes 45 free View Me's. At other singles events, people are never sure how to exchange contact information and it becomes awkward; this is where Meet n' Mix excels above all others. Five Meet n' Mix Card's are given to each person at each event. Don't forget, people can take a chance on attending an event and experience the ability to interact with people face to face. Now, people have the ability to utilize 5 free Match Me's post event - that's sweet.
Against Speed Dating:
By reading the Founder's message, people will recognize why Meet n' Mix singles events are like no other. It's NOT a speed dating atmosphere because that really does not work. Meet n' Mix offers an equal playing field meaning a room full of an equal amount of males and females, activities that inspire an introvert as much as an extrovert, and a very easy way to begin communication with a person of interest by utilizing the Meet n' Mix Business Card. Just by chance if people can't make it out to an event then take advantage of a View Me to unlock crucial contact information, including a minimum of one social media ID. That's the real benefit of Meet n' Mix!
Event Venues:
Meet n' Mix Event Venues are just plain hot. Words that will come to mind are cool, sophisticated, chic, contemporary, and simply modern. Meet n' Mix event venues are are simply relaxing and comfortable. By partnering with great hotels, people are provided with fantastic group rates. So, if people are attending an event in a new city -no worries - the rate will rock.
Profiles Are Real:
Meet n' Mix recognizes other single sites seem to have a lot of "unreal" profiles, aka fake. There will never be any phony profiles intentionally added. Feel empowered to spread the word that Meet n' Mix is truly the best way to connect with real singles. Meet n' Mix encourages people who are serious about truly meeting someone for the right reasons to join Meet n' Mix.
Looking For Someone:
Meet n' Mix recognizes that family and friends are asked to help find that special someone. Knowing this, people can list their relationship status as "in a relationship" (married or dating) to create a profile designed to look for a friend or family member. People can browse the site and Send Profiles or Upcoming Events to friends or family via the social media sharing function.
About Meet n' Mix: Newly launched, innovative singles site specializing in Christian, Hindu, and Muslim singles events in major metro cities across the Country. The only singles site to offer a payment system using credits or tickets and the ability to show social media ID(s) on profiles.