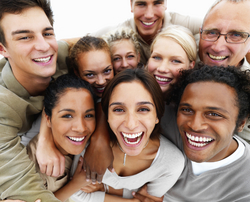 Our philosophy focuses on self-discovery: the more you know yourself - what you want, how others perceive you - the easier it is to successfully find a long-term connection. We help our members meet like-minded, compatible people. No other company is taking this approach, and the feedback we've received so far is phenomenal
Seattle, WA (PRWEB) October 1, 2009
Despite Seattle's recent accolades as a top dating hotspot, single men and women still have limited options when searching for a serious commitment. Traditional matchmaking services typically are expensive, online dating can seem impersonal or isolating, and speed dating focuses on brevity and quantity. Additionally, opportunities for feedback can be very limited, as are the tools for singles to help increase their chances of a successful long-term relationship.
Launching today, Seattle-based Guys And Girls Next Door (GND) has created a new kind of service -- Social Matchmaking Dating™ - to meet the needs of singles seeking a different experience. The new membership-based service combines the elements of traditional dating and matchmaking with personality assessment insights, feedback, coaching and numerous resources to help members increase their dating success.
"Our goal is for all our members to find committed relationships based in authenticity, honesty and self-awareness," said Angel Cruzado, Executive Director and Co-Founder of Guys And Girls Next Door. "Our philosophy focuses on self-discovery: the more you know yourself - what you want, how others perceive you - the easier it is to successfully find a long-term connection. We help our members meet like-minded, compatible people. No other company is taking this approach, and the feedback we've received so far is phenomenal," he added.
Guys And Girls Next Door provides two membership options, offered monthly, without requiring longer-term contracts:
Group Membership

Personality Trait Feedback: Based on the Myers-Briggs Type Indicator® (MBTI) Assessment
Group Dates: Social Mixers with 6 to 10 members in comfortable, fun, social environments
GND-U: Sessions covering dating topics of interest with experts across a range of fields
Drop-In Meet-Ups: Informal opportunities to interact with and learn from GND staff and fellow members during the dating process.
Individual Membership

Includes Group Membership services as well as:
In-depth Personality Trait Feedback: Based on Myers-Briggs Type Indicator® Assessment, with expanded details and individual discussion with GND staff
Traditional Dates: One-on-One Interactions Matched by GND
Individual Meet-Ups: One-on-one discussions with GND staff for feedback and dating improvement
To celebrate its launch, Guys And Girls Next Door is offering free Group Memberships for two months, for members who sign up by Oct. 31, 2009. Initiation fees of $50.00, which cover set-up and MBTI fees, are not included in this introductory offer.
As part of the launch, Guys And Girls Next Door has partnered with Dutch Bike Seattle to create Conference Bike Group Dates in neighborhoods like Ballard, Belltown, Capital Hill, Fremont, Queen Anne, Kirkland, WA, Madison Park, Phinney Ridge, West Seattle, etc. using the innovative 7-person working bike -- the schedule of neighborhood appearances will be available on the GND events calendar.
After October 31, Group Memberships will cost $75.00 per month.
"We provide a unique service because we help our members look at themselves objectively before we set them up on dates," said Mary Starks, Psychology Director and Co-Founder, Guys And Girls Next Door. "So many people spend too much time in relationships without understanding who they are and how to find and connect with that special someone who's truly compatible with their personality, interests and goals."
Interested Seattle singles can learn more and sign up at Guys And Girls Next Door. The service has been gaining attention with 'friends' and 'fans' on Facebook, Twitter and with the company's blog, also available at the website.
Founded in June 2009 by Angel Cruzado, Mary Starks and Allen Alberto Rodriguez, Seattle-based Guys And Girls Next Door was created to provide commitment-minded singles with dating experiences and opportunities to increase self-awareness and communication skills with resources not traditionally available from matchmaking, online or social mixer services.
Contact
Angel Cruzado
(206) 866-5783
Twitter | http://www.facebook.com/pages/Seattle-WA/Guys-And-Girls-Next-Door/106601435279?ref=search&sid=541188464.2210307873..1 [Facebook __title__ Twitter]
# # #