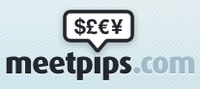 "The mission behind MeetPips.com and our other Forex trading sites is to provide tools and resources to help traders increase their chances for success," said Odell Ramirez, co-founder of MeetPips.com.
Richmond, VA (PRWEB) December 1, 2009
Pips à la Carte announced today its online Forex trade journaling and social networking site, MeetPips.com, is officially available to the public after seven months in private beta. MeetPips.com allows registered users to easily craft trading plans, track trades, and optimize trade performance for free. MeetPips.com is Pips à la Carte's fifth foreign exchange trading site.
"The mission behind MeetPips.com and our other Forex trading sites is to provide tools and resources to help traders increase their chances for success," said Odell Ramirez, co-founder of MeetPips.com. "Developing a trading plan and sticking to it are the main ingredients of trading discipline. And having rock-solid trading discipline is the most important characteristic of successful traders. Not having a trading plan or deviating from it may pay off in the short-term, but it will not produce consistent profits in the long-run. If you trade by the seat of your pants, you'll go broke," said Ramirez.
MeetPips.com is for Forex Traders Seeking an Easier Way to Manage and Track Trades
The site provides new and experienced Forex traders with an easy-to-use online trading journal. A step-by-step questionnaire asks members the most vital questions to jumpstart their trading plan.Trades can be entered by simply selecting currency pairs, and then assigning an entry price, stop loss and profit target. Multiple positions can also be traded at once. Unlike other trade journals, MeetPips.com incorporates the psychological aspect of trading into its web-based journal. Members can log their emotional state before, during, and after each trade into the Emo Meter.
"Emotions play such a big part in trading, so it's important to monitor the psychological side of the trade. The online journals show your performance in black and white, while exposing poor trading habits," said Ramirez. "Staying organized is also key. It's not enough to scribble your plans on the back of a napkin or in a notebook once a month. Hand-drawn graphs and reports won't cut it once you start to manage dozens of trades. It's just like sticking to a diet - you have to invest time in your journal and be honest about yourself to see positive results. We provide traders the tools to stay on track."
MeetPips.com's Features Keep Members Organized and Connected with Other Traders
Along with its web-based trading journal, MeetPips.com also offers other powerful features to help manage trades more effectively. Members can enjoy:

Free Membership: Members never have to pay a dime to join MeetPips.com. It takes less than 10 minutes to create an account, complete your trading profile, and enter your first trade.
Personalized Dashboard to Organize Trades, Display Blog Posts, and More: MeetPips.com makes managing your trades more efficient and less time-consuming through an organized, user-friendly dashboard. View recent trades, historical reports, blog posts, and your friends' activities all in one screen.
Following Other Trades -Traders with different experience levels can learn from their peers' wins and losses by following others' trades, win percentages, and win expectancies.
Active Forex Groups - Members can post on MeetPips.com's Forex Groups to discuss trading systems, opinions of economic trends, and other Forex topics.
Find Friends Feature - Members can send invitations to their friends by importing their address books from Gmail, LinkedIn, Yahoo!, or Hotmail.
Receive E-mail Notifications - Receive e-mail alerts from MeetPips for site announcements, new blog comments, and new followers.
Customizable Widgets - Forex traders are never shy about their success. Traders can share their trade statistics by embedding MeetPips.com's widgets on their own site or blog. These widgets display the user's average win or loss per trade and their overall win percentage.
The site has been in limited release since April 2009 and now has over 2,500 registered users. Ramirez attributes the site's rapid growth to MeetPips.com's uncomplicated features and users' willingness to help fellow traders. He encourages traders to seek other resources within Pips à la Carte's network of Forex trading sites.
"Whether you're new to currency trading or heavily experienced, there's something for every trader in our Pips à la Carte community." added Ramirez. "From introductory lessons on BabyPips.com to product reviews on ReviewPips.com, MeetPips members have an abundance of resources to access on any of the Pips à la Carte sites."
Start trading smarter. Plan your trade, and trade your plan by signing up for a free account at http://meetpips.com/signup.
About MeetPips.com
Launched in 2009 by Pips à la Carte, MeetPips.com takes the guesswork out of Forex trading with their interactive web-based trade journal and other easy-to-use trade management applications. Members can plan, manage, track, and close trades, while sharing their performance with fellow Forex traders around the world (all without costing a dime). MeetPips.com provides members with tools to help transform themselves from emotional Forex gamblers into disciplined Forex traders. For more information, visit http://www.meetpips.com, and follow us on http://twitter.com/meetpips.
About Pips à la Carte
The FX-Men created Pips à la Carte in 2007 to protect Forex traders from slick, get-rich-quick Forex schemes, while finding fresh, witty ways to educate traders along the way. Forex traders, both new and experienced, have instant access to an assortment of online Forex resources across their five websites.
Start with free Forex lessons, blogs, and forums on BabyPips. Read the latest Forex news on FreshPips. Get unbiased consumer reviews and opinions on ReviewPips. Look for answers to your most burning Forex questions on AskPips. And build a rock-solid trading plan using a free, online trading journal on MeetPips. Feed your Forex hunger at http://www.pipsalacarte.com.
###