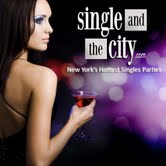 Many singles will resolve to find love in the new year and now they'll be able to save enough on these singles events to have some extra cash to use on their dates
New York, NY (Vocus/PRWEB) February 09, 2011
$60.00 valued dating vouchers good for (2) tickets to any SingleAndTheCity singles party taking place in February or March will be available for purchase exclusively on LivingSocial.com on Wednesday, February 9th for just $15.00 each, providing the LivingSocial buyer a 70% savings. NY and Hoboken Singles can purchase an unlimited number of these vouchers for local dating events for themselves and/or their friends.
Both tickets may be used by you at two different events or shared with a friend at one. On the dating docket for SingleAndTheCity this February and available though the deal are two major Valentine's Day singles parties. One Friday, February 11th at W Hoboken starting at 7:30pm, one Saturday, February 12th at bowery hot spot R-Bar. Party highlights include drink specials, delectable chocolate goodness provided by winning Top 10 Chocolatier, 2 Chicks with Chocolate, cupcakes by Butter Lane, the better cupcake, dancing, mingling, love games including ice breakers designed to be a catalyst for conversation, sponsor provided Sweetbreath to ensure singles breathe friendly throughout the night, "Love & Sex" tarot card readings where singles can learn about their relationship 'past, present and future' via renowned psychic Maria Pirone who will also be sharing dating advice. Feuza Reis Photography will also be on hand to capture all of the behind-the-scenes action.
If you've already got V-day weekend plans, snag your very own hero at SingleAndTheCity's "Rescue Me" Fireman singles soiree on the upper east side at Saloon where lucky ladies can meet up to 100 single FDNY and hopefully score a first date in one night. If NY's bravest leave you breathless, word on the street is you'll have no trouble getting some mouth-to-mouth. And as if that weren't enough, Friday, February 25th they're taking over Hudson Terrace for an evening of drinking, dancing and merriment with 300+ other 'single and fabulous' New Yorkers and on Friday, March 18th the dating debauchery will continue for a Spring Fling at Soho's Greenhouse.
"The timing around this deal is great," says OnSpeedDating.Com Co-founder, Carmine Di Re. "Many singles will resolve to find love in the new year and now they'll be able to save enough on these singles events to have some extra cash to use on their dates."
Dating service SingleAndTheCity hosts "themed" singles parties and events for NY/NJ singles of all sexual orientations, offering something for pretty much everyone. Their edgy events have been fodder for and/or featured by Howard Stern, Dateline NBC, The New York Times, Regis and Kelly, Good Day NY, CNN and more. Some of their more popular singles party themes available through the deal include "Rescue Me," Fireman Singles Party,
"Love is and will always be a numbers game," says SingleAndTheCity.com Co-founder, Amber Soletti. "We are super psyched to be partnering with LivingSocial and are excited to have the opportunity to throw some of their over 600,000 New York members into the dating mix. We are confident that many a love connection will be made."
SingleAndTheCity.com is a new dating event concept created for savvy, swinging, city-dwelling singles who are tired of run-of-the-mill local dating events attracting socially awkward singles. What sets SingleAndTheCity.com apart is its ability to foster personal connections: Events match participants with other singles who share similar interests, backgrounds, quirks–even fetishes–and a passion for meeting new people and having fun. This online company produces singles parties, networking events, speed dating, wine tastings, dating advice and much more for singles of all orientations across Manhattan and the five boroughs.
OnSpeedDating.Com: OnSpeedDating.com (OSD) is an entirely new breed of speed dating. Delivering quality and quantity, the service offers NYC singles niche events themed around dating deal breakers as well as quirks and fetishes like "Hot for Teacher", "Date a Democrat", "Gentlemen Prefer Blondes", "Inked" for tattooed singles, "Non-Practicing Jew" night, "Have Passport, Will Travel", "Mr. Right Now" and "Size Matters" for guys and gals with a hankering for height and "Wing Women" for women seeking a partner in crime when they hit the dating scene. With the promise of at least 10-25 'dates' per event, singles are sure to have their pick of matches. Admission fees range from $30 to $40 per event. Currently offering Speed Dating Hoboken and Speed Dating NYC events.
LivingSocial.Com: LivingSocial offers daily deals on handpicked experiences that can be shared with friends. Our mission is to add surprise to every calendar. So we dig deep, pursuing both the things that define a place and the undiscovered jewels. We design total experiences that bring an adventurous, loyal new following to local businesses. Innovation and imagination have made LivingSocial the fastest-growing company in the social-buying category. We satisfy cravings for the new and different at significant savings. LivingSocial means living with real connection. We shape social lives.
CONTACT:
Amber Soletti
PR Contact / OnSpeedDating
P) 917.558.3033
amber(at)singleandthecity(dot)com
# # #