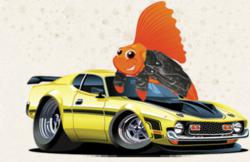 While part of me thinks how incredible it would be to win the jackpot, the other part of me would be terrified [to win.]
New York, NY (PRWEB) March 27, 2012
RoadFish.com men's lifestyle and finance magazine today weighed in on the enormous sum of money at stake in the national Mega Millions jackpot game and why none of the RoadFish staff will be playing the game. Due to there being no winner at last Friday night's drawing, the Mega Millions grand prize has reached $363 million dollars.
Staff writers Yunji De Nies and Suzan Clarke of ABC News report that the current jackpot of the Mega Millions lottery game has hit $363 million, making it the third largest prize in the history of the game. The article states that the odds of winning the lottery are approximately one in 176 million. The Mega Millions game includes 42 U.S. states, Washington, DC, and the U.S. Virgin Islands and the next drawing is Tuesday night. The article states that the prize winner would walk away with $255.1 million, if they decided to take the lump-sum prize instead of the 26-year payoff.
The Mega Millions website describes the two options of the lottery winner as either taking home a cash option, which is a one-time lump-sum payment, or an annuity option, wherein the winner would receive annual payments for 26 years. With this option, the winner would receive about $38,500 annually per every $1 million in the original pot.
RoadFish.com's Senior staff writer is quoted as saying, "While part of me thinks how incredible it would be to win the jackpot, the other part of me would be terrified [to win]. I know it sounds crazy, but I've read too many stories of money changing people and affecting relationships. I've truly learned in my years that money really does not buy happiness, as corny as it sounds."
The above-mentioned ABC article issues lottery advice from 7-time lottery winner, Richard Lustig of Florida who has succeeded in making a profit of over $1 million from playing the lottery. Lustig recommends picking your own numbers as opposed to using Quick Picks (computer-generated numbers), researching to ensure that your pick of numbers has never come up previously, and steering clear of splurging on lots of tickets with the belief that it will increase your odds of winning. The article explains that because the lottery is always drawn from the same set of numbers, the odds of winning never change—regardless of how many people play each time.
RoadFish.com does wish the best to whoever the winner is deemed to be, and its Senior staff writer stated, "I like to think that whoever wins it, deserves it. My biggest hope is that they use the money wisely and for good. I honestly knew a guy who won several hundred thousand dollars, blew it all in one year, and went into major debt. How do you win $400,000 and wind up with nothing to show for it but a crappy credit report score and major debt? It's so sad."
Mega Millions began in 2002, consisting of New York, Ohio, Georgia, Illinois, Maryland, Massachusetts, Michigan, New Jersey and Virginia as participants. Between 2002-2010, 33 other states joined in. Today, Mega Millions is the US's most widely played multi-state lottery game.
According to the Mega Millions website, drawings are held each Tuesday and Friday at 11:00pm Eastern Time, 10:00pm Central Time, and 8:00pm Pacific Time. On drawing nights, tickets are sold until 10:45pm ET, 9:45 pm CT, and 7:45 pm PT. Several state exceptions include Oregon, wherein residents can purchase tickets until 7:00pm, and Maine, New Hampshire, and Vermont, all of which sell tickets until 9:50pm on draw nights. Drawing take place at WSB-TV in Atlanta, GA.
About RoadFish.com
RoadFish.com is an online men's lifestyle and finance magazine targeted toward men in their 30's and 40's that have already attained a moderate level of success in life, and are striving toward more. It goes over current events of interest to this group, such things as exciting adventures, making money, consumer interests, hot chicks, and outdoor adventures as well as ways to make more and save more money. It is a publication owned by Purpose Inc.
###