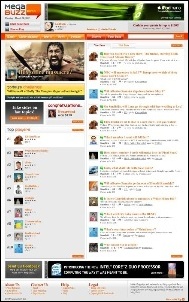 If you like connecting with people, sharing opinions, and winning money, we've got something for you
SEATTLE (PRWEB) March 19, 2007
The MegaBuzz experience is based on dynamic, user-generated content that gets the community buzzing. MegaBuzz ensures abundant fresh, creative content by providing prizes and prestige for the authors who generate the most buzz. As at heavily trafficked sites Yahoo! Answers and Digg, the community is in control of the content at MegaBuzz, deciding which topics are hot.
"The more compelling and provocative the questions, the greater the community interest and the more benefits to the author," said Ashish Pandey, MegaBuzz president and founder. "Certainly the hottest topics in politics, sports, and entertainment will bubble to the top. Buzz is created when a question catches fire. It could be about a familiar topic, but from an unexpected angle, and instantly the whole community is talking," added Pandey.
Many sites already connect people by encouraging profile hopping, but the MegaBuzz approach is unique, putting together people who participate in similar topics to determine whether they are "friends or foes." As the user base grows, MegaBuzz plans to add features to help communities form organically, around common interests.
"No other place on the Web rewards community members - with social contacts and prizes - for engaging in the latest in news, entertainment, sports, or any interest of their choice," he said.
The MegaBuzz formula - people, opinions, and prizes - will appeal to the many millions of online users who already participate in creating buzz, sweepstakes, and social networks.
"If you like connecting with people, sharing opinions, and winning money, we've got something for you," said Pandey.
For additional information, contact Melissa Albert at 206-898-6788 or Melissa@MegaBuzz.com.
About MegaBuzz: MegaBuzz (http://www.MegaBuzz.com/) is an online community where people come together to join in the buzz: asking questions on topics of interest, picking sides, and sharing opinions. Based in Seattle, it was founded by Expedia.com veterans and has been funded by leading Seattle-based angel investors.