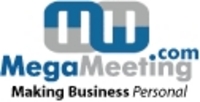 MegaMeeting's interface was exactly what we were looking for. Adjustable video frames, simple options such as share desktop, higher video quality, user friendly, and all without making your invitees download a program to join a webcam session
Los Angeles, CA (Vocus) April 20, 2010
Why would a law firm known for using cutting edge techniques to achieve great results for their clients, use anything but the latest technology to assist them in getting those results? Known for being innovative trendsetters in the law industry, Florida-based law firm Hightower & Partners, use MegaMeeting.com Video & Web Conferencing technology to save time and money for not only themselves, but their clients as well.
Lilly Torres, an Office Administrator for Hightower & Partners, P.A., remarks "With the current economic climate, businesses are in the market to save. Air and car travel is expensive these days, but with MegaMeeting we are able to extend a business meeting over a computer/TV screen. It's the technological age and we're rolling with the punches!"
With four offices spread throughout the state of Florida, MegaMeeting.com's 100% browser-based video & web conferencing product has allowed Hightower & Partners to add a personal touch to their online seminars, company meetings and employee trainings. They have even held business luncheons via web conference. Prior to implementing MegaMeeting, meetings were conducted through impersonal phone conferences or by asking a Managing Partner to use valuable time and fly out to remote offices for face-to-face meetings.
When researching for the right web conferencing platform to use, Hightower & Partners' #1 priority was to find a simple, easy to use solution that offered quality video. "MegaMeeting's interface was exactly what we were looking for. Adjustable video frames, simple options such as share desktop, higher video quality, user friendly, and all without making your invitees download a program to join a webcam session", states Torres. She goes on to say "MegaMeeting is a top notch web conferencing interface catering to those that hate the unnecessary frills or the other web conferencing guys! Easy-peasy!"
About MegaMeeting.com
MegaMeeting.com is a leading provider of 100% browser based video & web conferencing solutions, complete with real time audio and video capabilities. Being browser based and working on all major operating systems – Windows, Mac & Linux; MegaMeeting.com provides universal access without the need to download, install or configure software. MegaMeeting.com web conferencing products and services include powerful collaboration tools that accommodate robust video & web conferences, including advanced features such as desktop/application sharing, i.e. Word and Excel documents and PowerPoint presentations without the need to upload any files. MegaMeeting is ideal for multi-location web based meetings, virtual classrooms, employee trainings, product demonstrations, company orientation, customer support, product launches and much more.
For more information please visit MegaMeeting.com or call (818) 783-4311.
# # #