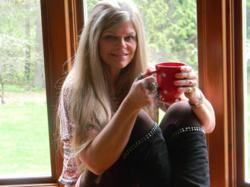 "Yeah I am your #1 fan :D I love the book so much I spend hours reading it everyday,' says Caitlyn age 15
Woodinville, WA (PRWEB) September 20, 2012
Calling it "refreshing and new" and "completely engrossing", readers are finding Transition "impossible to put down". A thrilling take on the shape shifter legend, this brilliant debut novel from author Megan S. Johnston is fast becoming a fan favorite on the web.
The intriguing story of Develon Cole, a member of a race so old that humans relegated it to myth, and Shelby O'Neil, a young woman with a strange past and a fascinating future, Transition is the first installment of Johnston's six-part, continuing-world series, The Chimera Hunters.
Filled with romance, intrigue, and more than a little adventure, Transition follows Shelby and Develon as they find one another amidst bizarre circumstances, only to realize that they already know each other – from their reoccurring dreams. Discovering that they are one another's soul mate isn't as easy as it seems, as they discover that their newfound bond is in danger. Hunted by other Chimera and searching for answers to Shelby's past, they must determine where they fit in their brand new world.
With one reader saying, "My fifteen-year-old niece and her friends love it. They want to be in the movie!" and a second installment currently in the works, this series is quickly gaining an excited readership, one that spans all ages.
Available now in both paperback and e-book format, Transition is a must-read for all lovers of the paranormal romance genre. A perfect book for curling up in front of the fire on a cold night, Transition will keep readers plenty warm in the upcoming winter months.
For information on Megan Johnston and the book tour visit: http://megansjohnston.com
Megan S. Johnston
Megan S. Johnston is a freelance writer and entrepreneur living in the Pacific Northwest. In addition to writing fiction, she runs several family-owned and operated businesses, which she started over twenty years ago. She is an avid reader of paranormal romance and a member of the Pacific Northwest Writers Association. She has four children and seven grandchildren and lives with her husband and two dogs in Washington. Transition is her début novel.
For more information on Megan S. Johnston, please visit http://megansjohnston.com/.
Find Megan S. Johnston on Facebook at https://www.facebook.com/MeganSJohnston.
Follow Megan S. Johnston on Twitter at http://Twitter.com/MeganSJohnston1.
Connect with Megan S. Johnston on GoodReads at http://www.goodreads.com/author/show/6003257.Megan_S_Johnston.
Visit the author's blog at http://MeganSJohnston.wordpress.com.