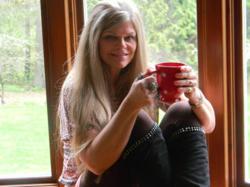 While I knew better than to open it last night I couldn't help myself and finished it at 2am. What a captivating story!
Woodinville, WA (PRWEB) September 15, 2012
The first installment of her exciting new Chimera Hunters series, Transition, is available now and garnering attention from readers of all ages. A delicate love story that combines danger, romance, and adventure, Transition is beautifully written, with more than a few supernatural chills.
Transition is the story of Shelby, a young woman attending her second year at Washington University, and her soul mate, Develon Cole. Shelby has lived a somewhat sheltered life, and up until recently, she has never been in love. However, when she begins to have reoccurring dreams of a handsome man she's never met, she discovers a longing that she's never known.
When disaster strikes while Shelby is on holiday with her closest friend, the girls run to their nearest neighbors for help. When they arrive, Shelby is shocked to learn that the man in the next cabin over is none other than the man she's been dreaming about for months. She is even more confused when he reveals to her that he is over two hundred years old and a member of an ancient race that possesses fascinating powers and can shape shift at will. His name is Develon, and he is Chimera, one of many who were long ago cursed by the gods to wander the earth, searching for their other half, their soul mate.
Soon after meeting Develon, Shelby is thrown into a brand new world full of mystery, excitement, and more than a little danger. She must learn who she can trust, and who she really is, before time runs out and her life changes forever.
Already amassing a following of fans, Megan S. Johnston's brilliant new series is one that makes the paranormal romance genre new and fresh again. With relatable characters and a clever storyline, and set against the lush backdrop of the Pacific Northwest, Transition will leave readers eager to get their hands on the second book in the series.
For information on the book launch for Transition, please visit http://www.MeganSjohnston.wordpress.com
http://megansjohnston.com/
Megan S. Johnston
Megan S. Johnston is a freelance writer and entrepreneur living in the Pacific Northwest. In addition to writing fiction, she runs several family-owned and operated businesses, which she started over twenty years ago. She is an avid reader of paranormal romance and a member of the Pacific Northwest Writers Association. She has four children and seven grandchildren and lives with her husband and two dogs in Washington. Transition is her début novel.
Connect with Megan S. Johnston on GoodReads at http://www.goodreads.com/author/show/6003257.Megan_S_Johnston.
Visit the author's blog at http://MeganSJohnston.wordpress.com.