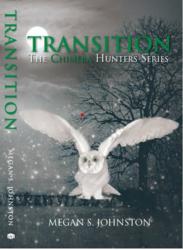 I highly recommend this novel! Very easy reading and a definite page turner. Cant wait for the next book in the Chimera Series!!!
Woodinville, WA (PRWEB) August 26, 2012
With Transition, the first in a six-part continuing-world series, Johnston introduces readers to the mysterious world of the Chimera. A powerful and ancient race, who were punished by gods because they feared their abilities. With their souls split in half, the Chimera are condemned to wander Earth searching for found their other half to be complete.
Develon Cole is Chimera. More than two hundred years old, he has been searching for his soul mate for as long as he can remember. When he thinks he's found her, a young woman named Shelby O'Neil, he must do everything he can to protect and shelter her from the dangerous world that they find themselves in. Hunted by other Chimera and the mystery behind Shelby's upbringing, the two have to unravel the mystery of their bond before they run out of time.
A captivating novel that will have readers racing to reach the conclusion, Transition is a welcome and refreshing addition to the paranormal romance genre. With her intriguing take on the shape shifter legend, her relatable and well-written characters, and her vivid engaging prose, fledgling author Megan S. Johnston has delivered the perfect adventure romance that will leave any lover of the genre eager to read the next installment of this fantastic and exciting series.
For information on the Virtual Book Tour for Transition, please visit Megan S. Johnston on Facebook for random sightings throughout the USA https://www.facebook.com/MeganSJohnston.
Megan S. Johnston
Megan S. Johnston is a freelance writer and entrepreneur living in the Pacific Northwest. In addition to writing fiction, she runs several family-owned and operated businesses, which she started over twenty years ago. She is an avid reader of paranormal romance and a member of the Pacific Northwest Writers Association. She has four children and seven grandchildren and lives with her husband and two dogs in Washington. Transition is her début novel.
For more information on Megan S. Johnston, please visit http://megansjohnston.com/.
Follow Megan S. Johnston on Twitter at http://Twitter.com/MeganSJohnston1.
Connect with Megan S. Johnston on GoodReads at http://www.goodreads.com/author/show/6003257.Megan_S_Johnston.
Connect with Megan S. Johnston on her Blog at http://MeganS.Johnston.wordpress.com