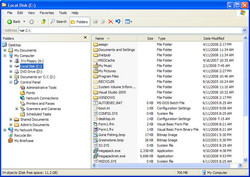 If your application needs a Windows Explorer UI, in some more sophisticated form than a 'File Open' dialog box, it looks like Shell MegaPack could save you a bundle of time and frustration.
Pune, India (PRWEB) May 14, 2008
LogicNP Software, a leading provider of components and controls, today announced the release of Shell MegaPack.Net v2008 for Windows Forms and WPF applications. Shell MegaPack is a set of components and user controls which enable developers to rapidly create a Windows Explorer like file and folder browsing UI in any Windows Forms or WPF application developed in C#, VB.Net or any other language supported by .Net such as Managed C.
This is the first major release of 2008 and features multiple FolderView root nodes, multithreaded FileView thumbnail extraction, Vista look and feel, much improved AutoUpdate and dragdrop functionality, many new properties, methods and events, and many other additional features. V2008 also features complete support for Visual Studio 2008 and Windows Vista. Shell MegaPack is available for immediate download at their website at Shell MegaPack.
With Shell MegaPack, LogicNP Software has filled a long standing requirement of application developers. Developers no longer need to be content with unattractive user interfaces or inconvenient modal dialogs. Mike Gunderloy of Lark Group Inc, lead developer for Larkware and author of numerous books and articles on programming topics, has reviewed Shell MegaPack and praised it for its features, extensibility and ease of use.
Gunderloy wrote, "If your application needs a Windows Explorer UI, in some more sophisticated form than a 'File Open' dialog box, it looks like Shell MegaPack could save you a bundle of time and frustration."
"LogicNP Software has taken the nuisance of the Explorer UI and wrapped it up into three custom controls with sensible APIs," Gunderloy added. Shell MegaPack has also been featured and reviewed in the prestigious MSDN Magazine.
The components and controls in Shell MegaPack mimic advanced Windows Explorer features including thumbnail, details and group views, dragdrop, icons, context menus, virtual items, infotips and renaming. They feature powerful behavior control and customization functionality like item filtering, multi-state checkboxes, custom items, custom columns and customization of context menus, dragdrop, appearance, display names, icons, overlay icons and infotips. Also included is ShellObjects, a set of controls and components which provide the following functionality:

ShellAppBar: Convert your forms to Quick Launch-like appbars - with complete autohide and drag-docking functionality and multi-monitor support.
Wizard: Quickly create a 'wizard' style navigable user interface consisting of multiple pages/steps.
ShellPopupNotification : Display multiple MSN/Office2003 style popups with slide and fade animations and complete customization and behavior control.
Resizer: Add automatic resizing and resolution independence to your forms in a single step.
TaskDialog: Display the new Vista 'task dialog' style message boxes from your applications.
SystemHotKey: Define and listen to system wide hotkeys.
SingleInstanceComponent: Get notified when a second instance of your application is started and optionally prevent it from running.
ShellNotifyIcon: Add system tray icons with support for XP balloon style infotips, animated icons and automatic context menus.
TaskScheduler: Control the Windows Task Scheduler service and create, delete and modify tasks.
ShellFileOperation: Perform copy, move, delete and rename operations on multiple files/folders with progress dialog and sub-folder support.
SystemIdleTimer: Get notified when the system goes idle for a certain time and when it exits the idle state.
ShellLink: Create and manipulate shortcut (*.lnk) files from your applications.
UrlLink: Create and manipulate internet shortcut (*.url) files from your applications.
Shell MegaPack.Net v2008 can be used in all editions of Visual Studio.2002, Visual Studio.2003, Visual Studio 2005 and Visual Studio 2008 as well as Borland Delphi for .Net, SharpDevelop and other .Net compatible IDEs.
Shell MegaPack is available directly from LogicNP Software. Trial versions and detailed product information is available at Shell MegaPack. Development licenses can be purchased starting from US $299. Multi-developer licenses, site licenses and Support and Upgrade Subscriptions are also available.
For more information about Shell MegaPack or other LogicNP Software products, visit LogicNP Software.
About LogicNP Software
LogicNP Software is a leading developer of user interface controls, and components and libraries based on .Net/WPF and ActiveX/MFC/ATL technologies. LogicNP Software's mission is to empower developers with professional quality components and controls. LogicNP Software's products are used by large and small companies from all over the globe - a testimony to their quality.
###