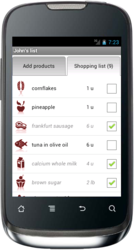 The aim of SuperMarket is to make, store and share shopping lists easily, while encourages a healthy diet and takes care of tracking expenses
Barcelona, Spain (PRWEB) September 30, 2012
Smartphones have changed the everyday life. They can't do the shopping on their own (yet), but keep a personal advisor in the pocket has many benefits. One of them is stop worrying about small things, as SuperMarket shopping lists, or not so small as maintain a healthy diet and control spending.
In the case of Megaphonik's new app, this is achieved through its database of over 3,000 products, classified by category and nutritional value. At any time, the user can check if the list is balanced, and receive instant feedback on how to improve it.
Products are organized in non-vegetarian, ovo-lacto vegetarian, lacto vegetarian and vegan. Also, the most used are listed automatically in Favorites, for a quicker access. This way, user can focus on products that best fit their lifestyle.
This features, and others like:

Add comments
Create new products
Bar code reading
Search products by name
Manage shopping cart at the store
are completely open and part of the Lite version. If the user needs more, the PRO version is extended with the following capabilities:
Track spending
Statistics on diet and spending by list, day, week, month or year
Use of reminders
Share lists
In short, the aim of SuperMarket is to make, store and share shopping lists easily, while encourages a healthy diet and takes care of tracking expenses.
For more information, product page explains in detail all its possibilities. In addition, the user can find pictures and video tutorials that explain how to make the best of the app, as well as news and updates about it.
SuperMarket is available on Google Play.
About Megaphonik
Megaphonik is a small development team based in Barcelona (Spain). For more information, please visit the company's website.
Jorge Escobar, Megaphonik