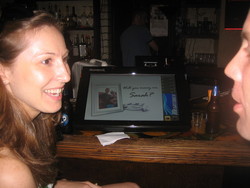 Word Dojo is Sarah's favorite game, and AMI Entertainment Network made this all happen.
Washington, DC (PRWEB) August 24, 2009
When Patrick Leonard sought his girlfriend's hand in marriage Sunday night, he turned to a popular Megatouch word game to deliver the message, and she said …"Yes!"
The story began with Patrick and his bride-to-be Sarah Grossman, two Washington D.C. consultants who shared many moments inside the District's Townhouse Tavern, playing Word Dojo on the bar's Megatouch. When the time came to propose, Patrick knew the way to Sarah's heart was through her favorite game.
"I wanted to do something that was romantic and fun - something we would always remember," said Patrick. "Word Dojo is Sarah's favorite game, and AMI Entertainment Network made this all happen."
He reached out to AMI Entertainment Network, makers of Megatouch, who reprogrammed Word Dojo to include his proposal. A representative then traveled from their headquarters outside Philadelphia to the bar in D.C. to install a special console for the event.
Patrick triggered the puzzle to spell out "Will you marry me?" by entering the letter "T" as a word.
"Megatouch was more than happy to be brought in on Patrick's surprise," said Mike Nickerson, vice president of advertising for AMI Entertainment Network. "Our games are all about providing entertainment that brings people together for fun and enjoyment. What better way to do this than for an occasion like Patrick and Sarah's?"
AMI Entertainment Network Inc. is a global provider of on-premise digital entertainment, from touchscreen games and jukeboxes to streaming news, music, and video programming.
With its signature Megatouch and Rowe brands plus strategic partnerships with TAP.tv, Rock-Ola, Almotech, and Games Warehouse, AMI provides content-rich entertainment solutions to bars, restaurants, and commercial venues in over 30 countries worldwide.
Expanding its digital portfolio to touchscreen PCs and mobile devices, AMI is at the forefront of touchscreen entertainment for any venue or platform. For more information about AMI Entertainment Network, associated brands, or network advertising capabilities, please visit http://www.amientertainment.com.
###