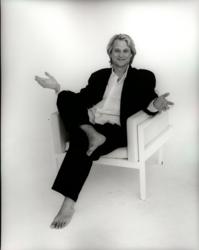 A remarkable personal achievement for us has been to build our own solar powered recording facility form the ground up.
North Hollywood, CA (PRWEB) November 01, 2011
Megatrax Production Music is shining a spotlight on their Amusicom catalog from Emmy Award winner Danny Pelfrey this November, commending Pelfrey for his advances in green technology and his ever-growing catalog of music for broadcast. In addition to launching a new solar-powered recording facility, Pelfrey's catalog issued three new releases in 2011, as well as the first two volumes of a new underscore series.
Says Pelfrey of his big year: "2011 has been a great creative year for us. Our releases have been Real Blues Songs, Global Drama, Emotional Orchestra, and the first two volumes of our new Underscore series, Rock and Piano… We are operating at a new creative peak... All the new technologies available to us afford us the chance to work with talented people anywhere and produce at a higher quality than ever before. A remarkable personal achievement for us has been to build our own solar powered recording facility form the ground up. We now have a world-class sounding room with the best mics and mic pres available, big enough for ensembles of almost any size."
With a landmark year coming to a close, Pelfrey is already looking ahead to 2012 projects, planning updates to a number of Amusicom series as well as an election year-inspired new volume for his Election & Politics series.
Ron Mendelsohn, CEO and co-founder of Megatrax, says: "We have had the pleasure of working with Danny Pelfrey for nearly 20 years. Danny is one of the most talented and versatile composers in the media industry today, and he continues to up his game for Amusicom with every new release."
The Amusicom catalog is ideally suited to television, film, radio, promo and underscore projects and features a stable of top industry composers who've created powerful news, drama, sports and entertainment themes in exceptional rock and pop styles.
To check out what Amusicom has to offer, visit the main Megatrax site at http://www.Megatrax.com and click through to the Preview Library under Music. To inquire about using tracks from Amusicom, contact Megatrax at info(at)megatrax(dot)com or call us at 888.MEGA.555.
Megatrax Production Music, the leading independent production music source for film, broadcast, advertising and multimedia, was founded in 1991 and has been serving the media and entertainment industries for 20 years. Originally established by composers JC Dwyer and Ron Mendelsohn in a studio adjacent to ABC Network, Megatrax is currently based in North Hollywood and maintains a 14,000 square foot facility housing multiple recording studios, edit rooms and offices.
Its staff has grown to include 38 full- and part-time employees and a growing network of award-winning artists, composers and producers. The company has expanded beyond its original flagship Megatrax library to a total of nine premium music catalogs including Amusicom, Beat Bites, Intervox, LA Riot, Sensacion, The Scene, and Tonal Injection, plus their indie artist Marquee Music label.
In addition to their music catalogs, the company now offers a host of additional services including custom scoring and broadcast news/ID packages through their Aircast Custom Music division. Megatrax has always striven to be a leader in technological advancement, most recently leading the charge with their unequalled music search and hard drive music delivery systems.
Among the notables who have contributed to Megatrax's body of music in the last 20 years are:

Acclaimed Film/TV composer Chris Hajian
Emmy-nominated Film/TV composer Donn Wilkerson
Emmy-nominated Film/TV composer Craig Stuart Garfinkle
Emmy Award-winning Film/TV composer Danny Pelfrey
Grammy Award-winning composer and arranger Jorge Calandrelli
Trailer Music veteran producer Robert Etoll
Veteran urban/hip-hop producer Christian Salyer
Acclaimed Chronic Music producers Eric Cunningham and Chris Lang
Find Megatrax and Aircast Custom Music online at: http://www.Megatrax.com and http://www.AircastMusic.com.
###