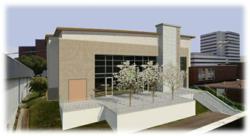 Alumni Hall fulfills a need that we have had for some time for a suitable gathering and social venue on our campus
Nashville, Tenn. (PRWEB) November 22, 2011
Meharry Medical College broke ground recently on a new Alumni Hall. Located behind the Salt Wagon Café near the center of campus, the 5,600-square-foot building will be used for seminars, receptions and community gatherings. It will include meeting space and will seat 300 to 350 people.
Meharry's President and CEO Dr. Wayne J. Riley said the facility will be a place for Meharry's Alumni to call their own; a place for them to gather and engage in world-changing dialogue.
"Construction of the new Alumni Hall represents a significant milestone in the history of Meharry Medical College," Riley said. "Alumni Hall fulfills a need that we have had for some time for a suitable gathering and social venue on our campus."
The building is made possible, in part, by a donation from Aramark. It represents a $1.6 million investment in Meharry's campus, and is one of three construction projects currently underway at Meharry.
Construction began in October on the new Delta Dental of Tennessee Simulation Center. It is made possible by a $770,000 donation from Delta Dental. Last year, Meharry began renovation of historic Lyttle Hall, which had been closed since 1992.
About Meharry Medical College
Meharry Medical College founded in 1876, is the nation's largest private, independent historically black academic health center dedicated to educating minority and other health professionals. True to its heritage, it is a United Methodist Church affiliated institution. The College is particularly well known for its uniquely nurturing, highly effective educational programs; emerging preeminence in health disparities research; culturally sensitive, evidence-based health services and significant contribution to the diversity of the nation's health professions workforce. Diverse Issues in Higher Education's ranking of institutions annually lists Meharry as a leading national educator of African Americans with M.D. and D.D.S. degrees and Ph.D. degrees in the biomedical sciences. Visit http://www.mmc.edu to learn more.
###