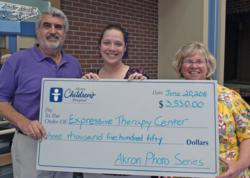 It's so easy to find ways to use photography in fund-raising! It just takes a little time.
Akron, OH (PRWEB) June 29, 2011
When photo industry executive, Skip Cohen, moved back to his Ohio roots two years ago he found himself frustrated with the lack of photographic education in the area. There were so few of the big names on the lecture circuit coming to the Akron/Cleveland area. So, he went to work on his "network" and blended two of his favorite activities, photographic education and causes involving kids!
"The photo industry is relatively small and we all go to the same rubber-chicken dinners at every convention! After so many years in the industry, I've got a pretty amazing network. I contacted a whole bunch of close friends and they helped me create the Akron Photo Series(APS)! Almost all the profit, after paying speaker costs, hotel and AV go back to Akron Children's Hospital and their new Expressive Therapy Center," said Cohen.
The idea of a photo series started in 2010 when fashion/editorial photographer, Matthew Jordan Smith came to Akron. Following Smith's program, "Fusion Evolution" featuring Clay Blackmore came to town, then Doug Gordon, Bambi Cantrell, Jasmine Star and just recently, Australia's Jerry Ghionis. Each photographer is legendary on the workshop circuit and has helped local photographers expand their skill set, as well as build a stronger photographic network.
Charitable events involving kids are nothing new for Cohen. His connection to Ansel Adams and Hasselblad, where he was president for many years created some amazing fund-raising opportunities. Hasselblad sold Ansel's 1977 Cadillac for $25,000 for charity and then came back several years later, selling his camera gear to shock-jock, Don Imus, for $100,000. The bulk of the proceeds went to the Elizabeth Glazer Pediatric AIDS Foundation.
The Akron Photo Series has a solid relationship with Akron Children's Hospital and their new Expressive Therapy Center. Using the strength of the arts in the healing process with children, photography will be playing an important role. Skip will be working with several industry manufacturers to provide equipment for the Center and has also ear-marked all funds raised from APS workshops for them as well.
"It takes so little effort for people to give back. Some times it's as simple as just being involved and giving an association a little time or ink in a blog post. Photographers in this area have now helped raise over $10,000 for Akron Children's Hospital. There are a lot of photographers doing wonderful things for various charities, but what if a thousand more did the same thing in their communities? The results would be amazing!"
On Skip's blog, http://www.SkipsPhotoNetwork.com he regularly links to various charities. Some of his favorites are Cameras For Kids Foundation,Now I Lay Me Down To Sleep, Thirst Relief and HeartsApart.org. Each one is doing something totally different, but offer, photographers especially, a way to be involved in giving back!
The Akron Photo Series is a project of Marketing Essentials International. Founded and incorporated in 2009, the company specializes in educational consulting projects within the photographic industry. For more information contact MEI at 330-867-1006.
###