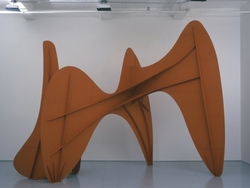 The Grand Rapids community received the generosity of the National Endowment for the Arts when La Grande Vitesse was installed. Four decades later, Frederik Meijer Gardens & Sculpture Park is fortunate to receive another grant on behalf of the community to honor the anniversary of this iconic sculpture
Grand Rapids, MI (Vocus) March 9, 2009
Frederik Meijer Gardens & Sculpture Park, one of the nation's most significant sculpture and botanic experiences, is honored to receive a major grant from the National Endowment for the Arts (NEA) in support of its upcoming exhibition Alexander Calder: 1969 - The Fortieth Anniversary of La Grande Vitesse, opening June 5, 2009. This exhibition, exclusive to Meijer Gardens, focuses on the 40th anniversary of the installation of Calder's iconic La Grande Vitesse located in downtown Grand Rapids, Mich. This colossal work was the first public sculpture project funded by the NEA's Works of Art in Public Places program in 1969 and internationally heralded as one of Calder's masterpieces.
"The Grand Rapids community received the generosity of the National Endowment for the Arts when La Grande Vitesse was installed. Four decades later, Frederik Meijer Gardens & Sculpture Park is fortunate to receive another grant on behalf of the community to honor the anniversary of this iconic sculpture," said David Hooker, President and CEO of Frederik Meijer Gardens & Sculpture Park. "Our exhibition showcasing Calder's finest work and honoring the many people who worked to bring this sculpture to Grand Rapids is now even more special with the support of the NEA."
The exhibition will showcase Calder's prolific work from the year 1969. Among the most innovative sculptors of the 20th century, his work played an influential role in the history of public art in American culture. A centerpiece of the exhibition is Calder's own and rarely seen, eight-foot scale model of La Grande Vitesse, on exclusive loan from The Calder Foundation. Additional works from the Smithsonian Hirshhorn Museum and Sculpture Garden are included as well as important loans from the City of Grand Rapids, Warner Norcross & Judd and private collections.
Images and more information about the exhibition are available. Please contact Amy Sawade, Public Relations Specialist at 616-975-3155.
About the National Endowment of the Arts
The NEA is a public agency dedicated to supporting excellence in the arts, both new and established; bringing the arts to all Americans; and providing leadership in arts education. Established by Congress in 1965 as an independent agency of the federal government, the Arts Endowment is the nation's largest annual funder of the arts, bringing great art to all 50 states, including rural areas, inner cities and military bases. For more information, please visit http://www.arts.gov.
About Alexander Calder
Alexander Calder (1898 - 1976) was born in Lawnton, Pennsylvania. He was the son and grandson of sculptors. Calder received a degree in mechanical engineering before deciding to become an artist. In 1930, he made his first "mobiles," or kinetic sculptures. Soon after, he created "stabiles," stationary mobiles with moving elements on top. By the mid-1930s, his work was more biomorphic reflecting the organic Surrealism movement. From the late 1940s forward, Calder developed monumental sculptures that defined architectural spaces. He eventually found a steel fabricator in France who could create stabiles large enough to walk under. Although based in abstraction, Calder's objects incorporate references to the natural world, interacting directly with their environments as the breeze moves them and light introduces shadowy images. By the 1960s, he was recognized internationally as among the most profound artists of his generation.
About La Grande Vitesse
Alexander Calder's stabile La Grande Vitesse is French for "the great swiftness" or "the grand rapids." It is widely considered Calder's most important public sculpture. Commissioned by the City of Grand Rapids and the Kent County Board of Supervisors, it became the first civic sculpture in American history to be financed through a 1967 federal grant given by the National Endowment for the Arts as part of its Works of Art in Public Spaces program. On June 14, 1969, the site-specific stabile was erected in front of Grand Rapids' City Hall. The installation became a watershed moment in art history and brought revitalization and urban redevelopment to the Grand Rapids community.
La Grande Vitesse measures 54 feet long, 43 feet high, 30 feet wide, weighing 42 tons. Like many of his sculptures, La Grande Vitesse's steel structure is painted "Calder Red." Calder Plaza is located at 300 Ottawa Avenue NW, Grand Rapids, Mich.
About Frederik Meijer Gardens & Sculpture Park
One of the nation's most significant botanic and sculpture experiences, Frederik Meijer Gardens & Sculpture Park serves more than a half-million visitors annually. The 132-acre grounds feature Michigan's largest tropical conservatory; one of the largest children's gardens in the country; arid and Victorian gardens; a carnivorous plant house; outdoor gardens; and a 1750-seat outdoor amphitheater, featuring an eclectic mix of world-renowned musicians every summer. The internationally acclaimed Sculpture Park features a permanent collection including works by Rodin, Oldenburg, Calder, Moore, Bourgeois and Plensa among others. Indoor galleries host changing sculpture exhibitions with recent exhibitions by Picasso, Degas, di Suvero and Chihuly. For additional information, please visit http://www.meijergardens.org.
Contact
Amy Sawade, Public Relations Specialist | 616-975-3155
# # #