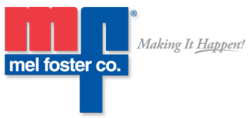 Davenport, Iowa (PRWEB) June 26, 2013
Lynsey Engels, President of the Real Estate Brokerage Division at Mel Foster Co. Inc., is pleased to announce that their Director of Residential & Corporate Relocation, Deb Boland, attended the Relocation Directors Council® (RDS)'s annual Spring Event.
This year's conference theme was "In Charge of Change Defining Our Future" and held in San Diego, California in May.
Over 120 relocation professionals from across the country gathered to participate in continued educational training, as well as networking with top industry leaders. Panelists from Relocation Management Companies and RDC's Advisory Councils addressed today's topics pertinent to those who manage mobility, domestically and globally.
About Relocation Directors Council
The Relocation Directors Council has set the standard for real estate relocation professionals. It's Corporate and Relocation Management Company Advisory Councils work in conjunction with the Board of Directors to promote the highest ethical and performance standards in the industry. RDC® and its membership has become the trusted source for up-to-date market information, best practices, industry specific education, and excellence in relocation services. As members of Worldwide ERC, RDC members' services span the globe. To learn more about RDC or to locate an RDC member, visit their website at http://www.relocationdirectorscouncil.org.
About Mel Foster Co. Real Estate
Founded in 1921, Mel Foster Co. is a Real Estate Leader of Eastern Iowa and Western Illinois serving Davenport, Bettendorf, Moline, Rock Island and the surrounding Quad City area, and it is one of Iowa's largest independently owned real estate companies. The company specializes in residential and commercial real estate sales and offers services in insurance, farm and land sales, land development, and management, relocation, career development, new construction and senior services. Visit http://www.melfosterco.com for more information.