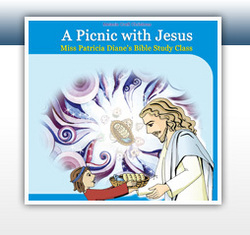 Miss Patricia Diane's Bible Study Class.
Ferndale, WA (Vocus) July 4, 2009
The stories of Jesus' miracles come alive in the class room of Miss Patricia Diane's bible study class. Miss Patricia Diane chooses a story for her bible study class every time they meet, and she reads that story to the children. The story she chooses for that day, in the book, is the miracle of when Jesus fed 5,000 people with five loaves of bread and two fish.
The children of that class watched with their imagination as the story unfurled before their eyes. They saw the miracle when Jesus kept breaking the bread and the fish until everyone had food. There was even some extra food left! One of the children was inspired to give his food to Jesus.
Melanie C. Christmas was inspired to write this story because of her young daughter. Her daughter loved to hear the miracles of Jesus, so every day Melanie would tell her a new story. This gave Melanie a great idea for a children's book series. She began writing "A Picnic with Jesus" as the first book in her series called "Miss Patricia Diane's Bible Study Class."
"My life has been filled with many obstacles to overcome. However, I always thought of them as challenges and that if God brought me to it he would bring me through it. "- Melanie C. Christmas
For more information visit http://www.apicnicwithjesus.com or contact Melanie Christmas at melaniechristmas@yahoo.com
# # #