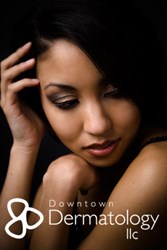 Columbus, OH (PRWEB) September 03, 2013
Melasma is a common skin condition that is characterized by patchy brown or gray-brownish discoloration on the face or other areas of the body that are exposed to a lot of sun. When color-making cells in the skin called, melanocytes, become over-stimulated, they can generate an excessive amount of pigmentation, which results in areas of discoloration. The condition occurs most often in women between the ages of 20 and 50 of Latin/Hispanic, North African, African-American, Asian, Indian, Middle Eastern, and Mediterranean descent, or those with olive or darker skin tones because these darker tones contain more melanocytes.
Symptoms
The only symptom of melasma is skin discoloration, however, individuals with this skin condition can often experience stress or anxiety as a result of the change in their physical appearance.
Discoloration most commonly appears on the:

Cheeks
Bridge of nose
Forehead
Chin
Upper Lip
Forearms
Neck
Nearly 50 million women worldwide have experienced melasma, which accounts for about 90 percent of all cases. Melasma is also more prevalent in pregnant women and has even earned itself a pseudo name, "the mask of pregnancy." While not nearly as common, men can develop this skin condition as well.
Cause
The exact cause of melasma is not entirely clear. One of the contributing factors could be a change in hormones due to pregnancy, birth control or hormone replacement medications. The sun is also a huge contributor to melasma because ultraviolet light stimulates melanocytes, which leads to pigment overproduction. Certain skin care products have also been known to irritate the skin and increase melasma symptoms.
Treatment
Melasma typically fades over time without medical intervention. For those who have symptoms that will not go away or chronically reappear, there are several treatment options available, usually in the form of an over-the-counter or prescription strength cream that works to lighten skin tone.
Prevention
Sun protection is the number one piece of preventative advice for individuals who are concerned about melasma. Sunscreen should be applied every day at least 20 minutes prior to sun exposure. Your sunscreen should be formulated to protect against UVA and UVB rays with an SPF of at least 30. And remember, sunscreen isn't permanent, so reapply every couple hours. Wearing protective clothing like wide brimmed hats to shade the face and neck or long sleeves and pants can also help to ward off the on-set of melasma symptoms.
If you are experiencing symptoms of melasma or would like to find out more about this skin condition, treatment and prevention, contact Downtown Dermatology at http://columbusdowntownderm.com or call 614-224-4566. Downtown Dermatology is conveniently located in the Market Exchange district at 500 East Main Street, Columbus, Ohio.