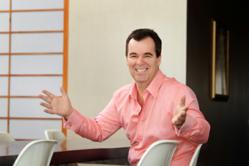 The traditional model of buying and selling houses isn't effective anymore
(PRWEB) February 20, 2013
Melbourne property values are rising, with activity levels on an upward tangent throughout 2012. According to fresh figures released by the Valuer-General Victoria, the average clearance rate for properties in spring was a robust 62.5%, with the trend continuing until the end of the year.
Australian property investment strategist, Rick Otton, says while market activity is expected to continue flourishing this year, higher demand will make it trickier for home buyers and investors to hunt out the best value-for-money properties.
The self-made millionaire and author will unveil exactly what real estate strategies will work best in this complex environment during a one-day Melbourne training seminar in February 2013. Seating will be strictly limited as the event, usually valued at almost $1,600, will be offered on a first-to-register basis.
How to Buy a House for $1
"My 'How to Buy a House for $1' seminar is specifically designed to help property investors build a property portfolio that will create passive income stream that will help them to retire early or build on previous successes," Mr Otton said.
"During the event, they'll discover five proven methods on how to buy property without a bank, a loan or a deposit. Participants will also learn how to structure property transactions to generate positive cash flow from day one."
Mr Otton has mentored more than 35,000 students from Australia, New Zealand, the U.S. and U.K. on his cutting edge property investment techniques. His aim is to enable people around the world to open their minds to new ways of buying and selling real estate.
"The traditional model of buying and selling houses isn't effective anymore. We have property owners who are going broke trying to pay off their negatively geared properties.
We have sellers who are struggling to sell their property in this cash-less economy. The banks have tightened lending, crushing the dream of home ownership for thousands of Australians," he explained.
"During times of crisis, new opportunities thrive. There's never been a more important time than now for the Australian public to discover this secret to no-money-down real estate investing" said Mr Otton.
He explained that participants would leave the seminar feeling inspired and motivated to take charge of their financial future using his strategies.
The Melbourne event will be held on February 23. It will include live demonstrations, interactive exercises and activities, case studies and lessons in cutting-edge strategies.
To register for the limited-seats Australian property investment training visit HowToBuyAHouseForADollar.com
About Rick Otton
Rick Otton has spent decades making money by snapping up inexpensive real estate and putting it to work building wealth. Now, he's teaching other Aussies how to do the same. He is the founder and CEO of We Buy Houses, which operates in the U.S., U.K., Australia and New Zealand putting his strategies to work every day.
Otton got his start in alternative real estate investment in 1991 and within a year acquired 76 properties. In years after, he made a fortune using his low-risk, high-reward strategies to inexpensively acquire real estate.
Now, Otton wants to share the wealth by sharing the wisdom, teaching us how to buy and sell real estate without cutting banks and other middlemen in on the deal.
Otton has been featured in a variety of television programs and magazines, including Today Tonight, A Current Affair, Australian Property Investor and more.
More information about real estate property investment at http://HowToBuyAHouseForADollar.com.au