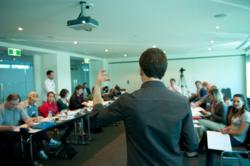 It's going to be an intense agenda, but the information attendees will receive is priceless
Melbourne, Victoria (PRWEB) January 27, 2013
Leading Melbourne SEO strategists, Melbourne SEO Services, have announced the dates of their highly limited internet workshop for businesses, which focuses on two key areas: outsourcing work and capturing more traffic. The seminars will be lead by industry experts and span over two days in February. "It's going to be an intense agenda, but the information attendees will receive is priceless" says David Jenyns, SEO expert and owner of Melbourne SEO Services.
One of the many problems small to medium businesses face in their schedules is lack of time. Business owners often spend many of their working hours performing tedious tasks, instead of working on ways to grow their business.
For many years, well respected SEO strategists Melbourne SEO Services have made it their mission to help business owners overcome this time dilemma by providing courses about smart SEO, as well as offering tailored internet marketing consulting packages. What's more, they've recently announced their next workshop which concentrates specifically on outsourcing work to free up time, as well as how to benefit from unused traffic sources.
This forthcoming workshop called The Outsource Profit Machine 2 is the sequel to the highly acclaimed Outsource Profit Machine course, and will be the focal point of day one. David says, "We're really proud to bring out an extension to the first OPM. The success of the original course enabled it to become a part of the renowned Profithacks launch, and was even attended by the Market Samurai team."
The workshop's first day will see attendees learning all the latest strategies and advantages of growing virtual teams, whereby tasks can be delegated through the web to workers in other countries. When managed correctly, virtual teams allow business owners to work less while earning more.
David explains "By outsourcing tasks to a virtual team, website owners can finally work on their business, instead of in it. By shedding tedious jobs, the business can put their efforts into making more money and profits. The cost versus reward ratio is heavily slanted in the business owner's favour."
The workshop provides step-by-step instructions on how to best build a virtual team and will be presented by marketing experts David Jenyns, Pete Williams, Chris Ducker and special guest Jen Sheahan. David continues, "We're really lucky to have Chris Ducker on board for this session. He's a well known outsourcer in the Philippines and knows exactly how to get A-Players into a team." David goes on by saying that after day one, businesses will know exactly how to outsource and build an effectual virtual team.
With work now delegated and out of the way, how will website owners spend their newly acquired free time to actually make more money? This is where the following day's course comes in.
Day two of this Melbourne SEO workshop will revolve around Google Display Network & Analytics. Main presenter Mike Rhodes, a web savvy expert in Google Adwords, will show participants different ways to unleash great sources of traffic, many of which are easily overlooked.
David remarks, "Mike will concentrate on re-marketing and converting warm leads already coming to a website, and then getting those buyers to return." Mike will then explain how to understand and interpret Google Analytics in order to get the most actionable data for a website. "This day is all about turning stats and numbers into usable tools, and that turns into dollars" says David.
The workshops are designed to draw businesses into the leading edge of online marketing, by outsourcing work to virtual teams and taking advantage of untapped traffic sources.
The workshops will be hosted at the Australian Institute of Management in St. Kilda, Victoria. The first course, The Outsourcing Profit Machine 2, is being held on 12 February 2013; and the Google Display Network & Google Analytics Workshop unfolds on the following day, 13 February 2013. Attendees will also have access to professionally recorded versions of the seminars, as well as a variety of other bonuses.
Workshop seating is extremely limited; to learn more and reserve your ticket visit: http://www.melbourneseoservices.com/workshops2013/
About Melbourne SEO
MelbourneSEOServices.com is a full service search engine optimization (SEO) consultancy, based in Australia, but with a worldwide client base.
Known for being at the cutting edge of strategic SEO practices, the company delivers a growing suite of services including: on-page and off-page search engine optimization, article distribution, Google Places listing, press release service, web video production and one-on-one consulting.
Melbourne SEO Services Director, David Jenyns, has, over several years, built a team of experts who are niche experts to support the business, and who share his ethos for ethical, professional internet marketing.