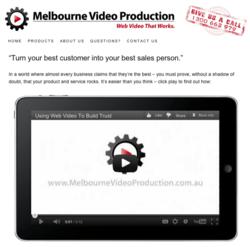 The experience that was once only available for in-store shoppers, is now online
Melbourne, Victoria (PRWEB) November 05, 2012
Recent research posted on Google's Retail Advertising blog in August proved online shopping trends in 2012 were strongly influenced by web video. Australian-based web video production company, Melbourne Video Production, have just launched their custom video services to meet the rising demand from their small business clients.
With the advent of web video, the landscape for retail shopping online has undergone a dramatic change. Google's research confirmed that 4 out of 10 shoppers who visit a store in person or online do so as a direct result of watching a web video. The findings were posted by Todd Pollak, Industry Director, Retail, on the Google Retail Advertising Blog.
"I've always known that video would pave the way for online shopping," says David Jenyns, web video expert and owner of Melbourne Video Production, "but I was astonished to learn that 34% of potential buyers are encouraged to purchase after viewing an online video, that's more than double the influence a traditional TV ad has."
The research further says 1 in 3 consumers use YouTube as their avenue to buy. They use online video as a tool to help make purchase decisions, and are increasingly using mobile devices to shop.
"The experience that was once only available for in-store shoppers, is now online," continues David, "where there used to be only a photo and text description for an item on a website, there's now a web video conveying an opinion, product review, or showing the item in motion."
As a result of Google's findings, David's video services in Melbourne has experienced an increase in demand for custom web videos from their business clientele, even though he's advocated web video for many years.
"It's great to see our field of expertise being backed up by Google's research," remarks David, "And our clients are responding to those findings by requesting more services from us. In fact, we just finished a custom video for a client, Simply Headsets, whereby the owner Pete Williams explains how to choose the right adapter cables for telephone headsets."
David commented that this client's information could have been confusing if presented in any other manner. "Because Pete decided to use web video, the viewer can clearly see and understand how to select the correct item. The confusion on what to buy has disappeared. That's powerful stuff."
Furthermore, David believes this web video trend will continue to grow, as well as its influence on a purchaser's decision making. To find out more about how to create custom web videos for a product, visit: http://www.melbournevideoproduction.com.au/video-production-in-melbourne/custom-web-videos/
About Melbourne Video Production
Melbourne Video Production is a division of MelbourneSEOServices.com, a full service search engine optimization (SEO) consultancy, based in Australia, but with a worldwide client base.
Melbourne Video Production has the unique ability to combine their web video expertise with strategic SEO practices from Melbourne SEO.
Director, David Jenyns, has, over several years, built a team of experts who are niche experts to support the business, and who share his ethos for ethical, professional internet marketing and web video.