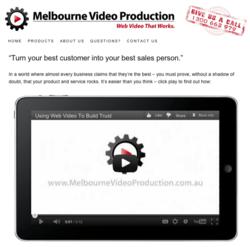 Video is more vibrant than pictures, more explanatory than words, and can convey the energy of a location in a single blink of an eye.
Melbourne, Victoria (PRWEB) December 01, 2012
Melbourne is known for being one of the food capitals of the world, with blogs and reviews dished out for restaurants every day. Capitalizing on the city's love to find good food, Melbourne Video Production launched a web video for Hollywood International Buffet's grand opening night. Since then, their demand for custom web videos has increased, "The requests we're getting has jumped considerably," says David Jenyns, web video expert and owner of Melbourne Video Productions, "Businesses of all types are finally realizing that their audiences love to watch experiences, instead of just reading about them."
Becoming a success in the highly competitive world of food is a tall order, with new restaurants constantly opening and closing. One of the hardest achievements for any start-up, like Hollywood International Buffet in Melbourne, is to make themselves noticeable in a massive marketplace, and to convince patrons to come dine with them.
It's not yet commonplace for restaurants to use web videos to entice customers, so Hollywood International Buffet decided to call in Melbourne Video Production to help cut through the competition.
"The custom web video we produced for Hollywood Buffet," says David Jenyns, Melbourne Video Production owner and expert in web videos, "Was a way to make the new eatery stand out against so many others in their marketplace."
The video, which is featured on the restaurant's website, highlights their grand opening night. With quick shots of Marilyn Monroe and Austin Powers impersonators greeting guests, the music then builds up pace as staff prepare food and diners merrily eat and drink.
"The video really captures the essence of the restaurant," David remarks, "it shows the high quality food up close, the attentive staff, and great feedback from the patrons."
David continues, "I'm actually surprised that more eateries haven't utilized web video as a way to influence diners. Video is more vibrant than pictures, more explanatory than words, and can convey the energy of a location in a single blink of an eye."
David exclaims that since the restaurant's video launch, their demand for custom web videos has escalated. "Before this video came out," says David, "People just didn't think about using video to promote food online. But with the queries I'm getting now, it's clear business owners realize that conversion sky-rockets when you bring web video into the mix. "
David goes on to mention that Melbourne Video Production can assist any type of business, from restaurants to bike shops, and offer services ranging from merely helping produce a video, to creating and scripting a full-blown production.
"It's vital for businesses to get on board with the online video revolution," David says, "and with the demand for our services increasing, I'd recommend taking that first step now rather than later to beat your competitor to the punch."
Melbourne Video Production offer pre-packaged web video services, as well as fully customized options, to cater for all variety of business types and budgets.
To view the recently launched Hollywood International Buffet video, visit: http://hollywoodbuffet.com.au/about-us/ or to learn more about Melbourne Video Production's services, just click here.
About Melbourne Video Production
Melbourne Video Production is a division of MelbourneSEOServices.com, a full service search engine optimization (SEO) consultancy, based in Australia, but with a worldwide client base.
Melbourne Video Production has the unique ability to combine their web video expertise with strategic SEO practices from Melbourne SEO.
Director, David Jenyns, has, over several years, built a team of experts who are niche experts to support the business, and who share his ethos for ethical, professional internet marketing and web video.