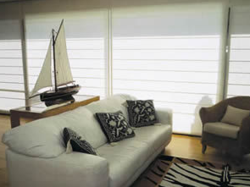 Many people don't realise how much money they can save on their electricity bills in the summer if they have their home set up to trap the cool air indoors.
(PRWEB) October 23, 2012
Melbourne residents concerned about rising electricity costs as summer approaches; are being urged to invest in a cost-efficient form of climate control inside and outside their homes to help reduce bills and make their homes a little 'greener'.
"Many people don't realise how much money they can save on their electricity bills in the summer if they have their home set up to trap the cool air indoors," said Peter Jackson, Director of Peter Jackson Blinds.
Peter advises that although homeowners may be running up ever-increasing electricity bills using air conditioners or fans to cool their homes during the warmer months, up to half of this can escape if precautions are not taken.
By installing and utilising some form of window coverings both indoors and outdoors, much of this expensively-produced cool air can be utilised for longer, meaning home owners can give their air conditioner (and their wallets) a well-deserved break come mid-afternoon.
Peter Jackson Blinds, a Melbourne company specialising in both indoor and outdoor shade solutions, is actively spreading the word on keeping cooling unit use to a minimum, in a bid to help customers reduce their growing bills and work towards maintaining a 'greener home' this summer.
"Closing your curtains or blinds even part of the way, or unrolling your outdoor awning is a cheap and easy way to keep that cool air indoors and save on those growing cooling bills."
A customer centric organisation, Peter Jackson Blinds educate customers about applying their blinds and awnings to help trap cooler air indoors, allowing them to reduce their bills and reduce greenhouse emissions through less frequent use of their cooling appliance.
"It's important that we provide value to our customers beyond simply selling them a product," says Mr Jackson. "As industry experts, it's essential that we educate and help customers make the most informed decision they can – whether it's good for their wallet, good for the environment or in ideal cases, both.
"Our range of products has been designed to cater for all styles and budgets, so we're certainly not playing favourites with anyone. Whether you buy from our everyday range or our top dollar products, our professional service and valuable advice will remain consistent."
Peter Jackson Blinds also offers products to keep outdoor entertaining areas cool and shaded at even the highest points of summer. "While many Australian homes have a deck or patio, perfect for outdoor entertaining in the warmer months, not all have coverings over them to block out the sun," said Mr Jackson.
"UV-ray blocking coverings don't just look after your skin, but they also prevent your decks from weathering under the harsh Australian conditions – especially if they're wooden. Keeping the sun off your deck when not in use can help families save money on re-painting and re-varnishing, giving them more time to enjoy the warm weather."
Peter Jackson Blinds provide a range of indoor and outdoor shade solutions for homes across greater Metropolitan Melbourne and Country Victoria. For more information on their services, visit http://peterjacksonblinds.com.au.