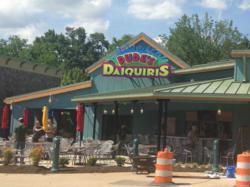 The combination of The Island entertainment district, the Great Smoky Mountain Wheel and this new select menu make this a truly unique location
Pigeon Forge, Tennessee (PRWEB) June 19, 2013
Mellow Mushroom Pizza Bakers is proud to announce its newest opening in The Island at Pigeon Forge, on Friday, June 21st, at 131 The Island Drive, Suite 3101, Pigeon Forge, Tennessee, located next to the Great Smoky Mountain Wheel.
"Soon after purchasing the 300,000 square foot retail and entertainment center, we knew we wanted to bring Mellow Mushroom to the Island," states owner Bob McManus. "Working with the home office, we have created a new version of the traditional Mellow Mushroom concept, where we offer a curated selection of Mellow's most popular menu items with a unique combination of counter ordering and table service designed to allow guests a fast service time so they can get back to enjoying all the fun that the Island offers, while still delivering the same Mellow food quality and unique environment they have come to know. The combination of The Island entertainment district, the Great Smoky Mountain Wheel and this new select menu make this a truly unique location," states McManus.
The menu features a select variety of handcrafted specialty pizzas, salads and slice combos; each of these dishes uses only the highest quality ingredients. Options for vegetarians are available along with gluten free selections. Feel free to get creative and build your own pizza while you are at it.
Along with these select menu items, this Mellow features an indoor/outdoor patio and bar with over 40 premium draft and bottled beers, where you can join the Mellow Mushroom Beer Club while earning member only rewards along the way. The Island Mellow also features 8 specialty 'Dude's Daiquiris' drinks as well as a handcrafted signature margarita in a souvenir margarita shaker.
Mellow Mushroom is known as a place that provides an entertaining experience in a unique art filled environment, and this location is truly a one-of-a-kind experience—all on an Island. As you enter this Mellow, a 25' Mel greets you on the sidewalk as you enter the door. Upon entering the vestibule, notice the giant, stunning art pieces designed for this location: a peace sign chandelier made of tubes, suspended 30' in the air; a beautiful light up mushroom polished with metal wraps, extending 24' long; a 60' sunburst Mellow mural; and a large metal and wooden sign making up the words "we've been baked since 1974," proclaiming the start year of the brand.
Mellow Mushroom will operate 7 days a week from 11 a.m. to 12 midnight. For more information on The Island at Pigeon Forge Mellow Mushroom visit http://mellowmushroom.com/store/mellow-mushroom-island-pigeon-forge, like us on Facebook at facebook.com/mellowisland, and receive rewarding and exciting news and invitations from our store by signing up for the Mellow eClub at http://www.mellowmushroom.com.
About Mellow Mushroom Pizza Bakers
Mellow Mushroom Pizza Bakers (http://www.mellowmushroom.com) was founded in 1974 in Atlanta, Georgia. This collection, operated under Home-Grown Industries of Georgia, Inc., is headquartered in Atlanta, Georgia. For 39 years, Mellow Mushroom Pizza Bakers has been serving up fresh stone baked pizzas to-order in an eclectic, art-filled and family-friendly environment. Each Mellow is locally-owned and operated with a unique feel focused around great customer service and high quality food.
Proud partners of the Share Our Strength Organization and the Dine Out For No Kid Hungry program which runs every September. Take the pledge and learn how you can help end childhood hunger by 2015 at http://www.shareourstrength.org.