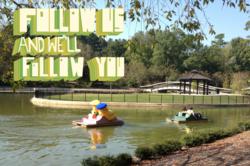 "It seems highly improbably that shortly after becoming an online fan of a company that you would suddenly find yourself being tailed by its mascot, but life is often made up of funny little coincidences like that."
Atlanta, Georgia (PRWEB) October 30, 2012
Mellow Mushroom, the Atlanta-based pizza company, launches an exciting social media promotion, Follow Us and We'll Follow You, wherein "liking" and "following" Mellow through social media platforms such as Facebook and Twitter challenges traditional notions of Internet anonymity. Just when you think you're safe to lurk and passively watch the rest of the world posting tidbits of their lives online, you're thrust into the spotlight—in a pleasant way, of course!
Now through November 11th, fans and curious consumers alike can go to http://www.FollowMellow.com and receive a free ½ order of pretzels, valid through November 30, and the chance to win free pizza for a year, by simply liking or following Mellow Mushroom. By participating in this opportunity, you might also be followed by Mellow … literally. The Follow Us and We'll Follow You promotion showcases a series of hilarious videos posted online.
These videos feature the Mellow Mascots, Mel and Dude following fans throughout their daily activities: running, shopping, exercising and daily appointments. The setup for the gag is accomplished with a little help from their family and friends. The blending of the familiar and the unfamiliar provides the feeling of what Freud called "the uncanny," a feeling which translates to the viewing audience, who are a bit more aware of the dramatic irony at work—classic Hitchcock.
The mystery behind this friendly form of pseudo-stalking ends in good fun, with the protagonist sharing a delicious Mellow Mushroom meal with the mascot stalker and gives everyone a bit of catharsis through following the mysterious video to its surprise outcome! Annica Kreider, VP of Brand Development explains how the video plays on the Surrealist concept that unexplainable coincidence is central to reality: "It seems highly improbably that shortly after becoming an online fan of a company that you would suddenly find yourself being tailed by its mascot, but life is often made up of funny little coincidences like that."
Mellow Mushroom Pizza Bakers and Fitzgerald + CO, an Atlanta-based creative company, raised the bar on social media interaction by showing fans and followers alike the more tangible outcomes of engaging in the world of social media. Follow Mellow tears down the theatrical fourth wall of stage, screen and now social media, not only providing a few laughs but also some exciting perks along the way too.
Check out these videos on YouTube:
http://www.youtube.com/watch?v=rYb_bfixk-8&feature=plcp&noredirect=1
http://www.youtube.com/watch?v=rCoCq5LeBlU&feature=plcp&noredirect=1
http://www.youtube.com/watch?v=Etb9uHlrkH4&feature=plcp&noredirect=1
http://www.youtube.com/watch?v=xB2xcQJkLa4&feature=plcp&noredirect=1
http://www.youtube.com/watch?v=Ie_ew0QyS5Y&feature=plcp
###
About Mellow Mushroom Pizza Bakers
Mellow Mushroom Pizza Bakers (http://www.mellowmushroom.com) was founded in 1974 in Atlanta, Georgia. This franchise, operated under Home-Grown Industries of Georgia, Inc., is headquartered in Atlanta, Georgia. For 39 years, Mellow Mushroom Pizza Bakers has been serving up fresh stone baked pizzas to-order in an eclectic, art-filled and family friendly environment. Each Mellow is locally owned and operated and provides a unique feel focused around great customer service and high quality food. For more information on Mellow Mushroom Pizza Bakers, like us on Facebook at facebook.com/mellowmushroomHQ, follow us on Twitter at twitter.com/MellowMushroom and follow us on Pinterest at pinterest.com/mellowmushroom.
About Fitzgerald + CO
Fitzgerald+CO (http://www.fitzco.com) is one of the leading brand-building agencies in the Southeast. Part of the Interpublic Group of Companies, the global agency specializes in advertising, media, brand development and public relations. Fitzgerald+CO' s client partners include Coca-Cola, Delta Air Lines, Pergo, Bottom Dollar Foods, Turner Networks, Navy Federal Credit Union, Old Dominion Freight Line, The QUIKRETE Companies, TVA, and Wendy's.