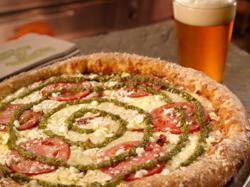 Metairie is a fast growing community, and the location off of Veterans Memorial is a fantastic location for Mellow."
(PRWEB) January 15, 2013
Mellow Mushroom Pizza Bakers is proud to announce their newest opening in Metairie, Louisiana, on Monday, January 21, at 3131 Veterans Memorial Boulevard, Suite 20, in the Forum Shopping Center.
"Metairie is a fast growing community, and the location off of Veterans Memorial is a fantastic location for Mellow." states Christopher Todd Moffatt. Moffatt, Leon L. Grigio, Jr. and William T. Maisano are thrilled to bring another Mellow Mushroom to the greater New Orleans area.
The menu features a variety of handcrafted pizzas, hoagies, salads, calzones and appetizers, dishes that use only the highest quality ingredients. Options for vegetarians, vegans and kids are available, along with gluten free options.
This one-of-a-kind jazz and blues inspired Mellow Mushroom is rooted in the owners' interest in the history and musical heritage of the Metairie area. All Mellow Mushrooms are known as places that provide an entertaining experience in a unique art-filled environment, and this location carries on that tradition in a jazzy style:

An artwork centerpiece will consist of an impressive collage of uniquely formed musical instruments suspended from the ceiling.
Original and imaginative murals of local musicians such as Fats Domino, The Neville Brothers, Dr. John and Tad Benoit to name a few are painted on 150 year old doors, paying tribute to the music history of the area.
Pendant lights are used throughout the restaurant constructed from actual musical instruments which have been converted for functional use and double as aesthetic interest.
To complement the dining experience, there is a full service bar with a great variety of craft beers, wine and cocktail options. Adventurous guests can join the Mellow Mushroom Beer Club in order to taste their way through endless amounts of draft and bottle selections and receive exciting members-only rewards along the way.
This lively Mellow will feature trivia nights beginning in February, and college and pro sports are featured on 30+" large televisions spaced throughout the restaurant.
Mellow Mushroom will operate 7 days a week Sunday-Thursday, 11 a.m. to midnight, and Friday and Saturday, 11 a.m. to 2 a.m. For more information on Mellow Mushroom Metairie, visit http://www.mellowmushroom.com/metairie and like us on Facebook at https://www.facebook.com/MellowMushroomMetairie.
###
About Mellow Mushroom Pizza Bakers
Mellow Mushroom Pizza Bakers (http://www.mellowmushroom.com) was founded in 1974 in Atlanta, Georgia. This franchise, operated under Home-Grown Industries of Georgia, Inc., is headquartered in Atlanta, Georgia. For 39 years, Mellow Mushroom Pizza Bakers has been serving up fresh stone baked pizzas to-order in an eclectic, art-filled and family-friendly environment. Each Mellow is locally-owned and operated with a unique feel focused around great customer service and high quality food. For more information on Mellow Mushroom Pizza Bakers, like us on Facebook at facebook.com/MellowMushroomHQ, follow us on Twitter at twitter.com/MellowMushroom and follow us on Pinterest at pinterest.com/MellowMushroom.