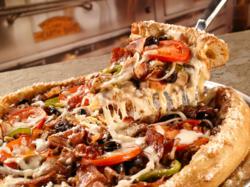 "We found a city that fits who we are to a "T". The city of Portland and Mellow Mushroom both encompass diverse cultural offerings, fantastic food, along with creativity and art."
Portland, Oregon (PRWEB) October 11, 2011
Jim and Cindy Waters are eager to bring Mellow Mushroom to Portland, Oregon on October 17th. This location will be the first Mellow on the West Coast. Jim states, "We found a city that fits who we are to a "T". The city of Portland and Mellow Mushroom both encompass diverse cultural offerings, fantastic food, along with creativity and art."
Each Mellow Mushroom features unique one-of-a-kind artwork, while encompassing the vision and passion of the owner and artists' alike. This Mellow offers an original mix of art, photography and funky architectural elements, in a 1970's basement feel.
Mellow Mushroom approaches its unique and distinctive menu items with creativity using only the highest quality ingredients that offer exceptional freshness and taste, prepared and baked to order. The menu features a variety of pizzas, hoagies, salads, calzones and appetizers. The menu has something for everyone, including Vegetarian's, Vegan's, and those on a gluten-free plan. There is also a fun and healthy kids menu available.
Mellow Mushroom fans continue to come to Mellow for it's:

Laid-back and unique atmosphere
Exceptional and craveable pizza
Unique specialty pizzas like The House Special, Mighty Meaty and Kosmic Karma, along with fresh calzones, garden-fresh salads and non-traditional hoagies
Top of the line craft beers and Mellow Mushroom beer club
Outstanding customer service
This Mellow offers a full service bar with an extensive list of craft beers, liquor and wine options. Join the beer club and make your way through 100 craft beers, while receiving unique rewards along the way.
Located in the Pearl District, at 1411 NW Flanders Street, this Mellow is open 7 days a week, Sunday through Wednesday, 11 a.m. to 10 p.m., Thursday, 11 a.m. to 11 p.m., and Friday and Saturday, 11 am to 12 am. For more information on Mellow Mushroom Portland, visit http://www.mellowmushroom.com and follow us on Facebook at http://www.facebook.com/MellowMushroomPortland.
About Mellow Mushroom Pizza Bakers
Mellow Mushroom Pizza Bakers (http://www.mellowmushroom.com) was founded in 1974 in Atlanta, Georgia. For 37 years, Mellow Mushroom Pizza Bakers has been serving up fresh stone baked pizzas to-order in an eclectic, art-filled and family-friendly environment. Each Mellow is locally-owned and operated with a unique feel focused around great customer service and quality.
Media Contact:
Tammy Lucich
tammy(at)mellowmushroom(dot)com
###