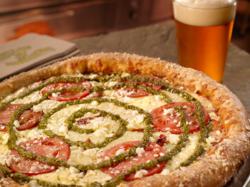 With the mix of nightlife, restaurants, unique shopping and art, it is the perfect location and vibe for a Mellow Mushroom
Washington, DC (PRWEB) October 13, 2011
Mellow Mushroom Pizza Bakers is proud to announce their newest opening in Washington, D.C. on Monday, October 17th. This unique Mellow is located at 2436 18th Street, NW, in the neighborhood of Adams Morgan.
The owners of this location, siblings Amit and Pooja Mehta are excited about opening a Mellow Mushroom in the neighborhood of Adams Morgan. "With the mix of nightlife, restaurants, unique shopping and art, it is the perfect location and vibe for a Mellow Mushroom," states Pooja.
The menu features a variety of pizzas, hoagies, salads, calzones and appetizers, only using the highest quality of ingredients. Options for Vegetarian's, Vegan's, kids, and those on a gluten-free plan are also available.
Catering to every diner's needs, this Mellow features three levels; indoor dining is available on levels one and two, and an enclosed penthouse area with an open rooftop deck is located on level three. According to artist and Director of Creative Development Carl Janes, "We developed an unusual take on an original combination of circus and vaudeville themes through historic eras throughout the restaurant."
All three levels feature a full service bar with a wide array of liquor, craft beer and wine options. Join the Mellow Mushroom Beer Club and make your way through all 80 beers, while receiving member-only rewards along the way.
The Mellow Mushroom will operate 7 days a week Sunday-Thursday, 11 a.m. to 2 a.m., and Friday and Saturday, 11 am to 3 a.m. For more information on Mellow Mushroom Adams Morgan, visit http://www.mellowmushroom.com and follow us on Facebook at http://www.facebook.com/MellowAdamsMorgan.
About Mellow Mushroom Pizza Bakers
Mellow Mushroom Pizza Bakers (http://www.mellowmushroom.com) was founded in 1974 in Atlanta, Georgia. For 37 years, Mellow Mushroom Pizza Bakers has been serving up fresh stone baked pizzas to-order in an eclectic, art-filled and family-friendly environment. Each Mellow is locally-owned and operated with a unique feel focused around great customer service and quality.
Media Contact:
Tammy Lucich
(404)-505-2801
tammy(at)mellowmushroom(dot)com
###