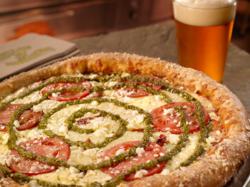 We feel that the addition of a Mellow Mushroom will be an amazing and unique experience for customers that frequent this area
Bristol, VA (PRWEB) December 06, 2011
Bristol, Virginia, December 6, 2011-Mellow Mushroom Pizza Bakers will be opening in Bristol, Virginia, on December 12th, at 3500 Lee Highway across from the Home Depot. This Mellow, which marks the second in the state of Virginia, is the second location owned and operated by Ryan Mathesius and Nate Singleton.
Ryan and Nate are thrilled to bring Mellow Mushroom to the city of Bristol. "Exit 7 in Bristol, Virginia, marks one of the busiest restaurant attractions on I-81 in the state of Virginia. We feel that the addition of a Mellow Mushroom will be an amazing and unique experience for customers that frequent this area," states Ryan.
"The inspiration for the original artwork draws on Bristol's country roots with elaborately framed pieces of art featuring Hank Williams and the Carter Family," states artist Carl Janes. A large mobile chandelier fills the center of the timber-framed building made from truck parts and other honky-tonk regalia. You will feel lucky when you grab a beverage at the "LUCKY" bar, a unique bar filled with horseshoes and giant lucky pennies
The Mellow Mushroom menu puts a modern twist on traditional pizza making. The menu features a variety of pizzas, hoagies, salads, calzones and appetizers, using only the highest quality of ingredients. Vegetarian, vegan options and gluten-free crust are also available. Enjoy a full-service bar that has unique draft beers, or join the Mellow Beer Club and make your way through 70 brews while earning rewards along the way.
This location seats around 200 people, including an open bar area, a seasonal patio and a large dining area with a beautiful post and beam ceiling. Enjoy events throughout the week including; trivia, live music, karaoke and beer tastings.
This location is open 7 days a week, Sunday through Wednesday, 11 a.m. to 10 p.m., and Thursday through Saturday, 11 a.m. to 11:00 p.m. For more information on Mellow Mushroom Britsol, visit http://www.mellowmushroom.com and follow us on Facebook at http://www.facebook.com/MellowMushroomBristol.
About Mellow Mushroom Pizza Bakers
Mellow Mushroom Pizza Bakers (http://www.mellowmushroom.com) was founded in 1974 in Atlanta, Georgia. This franchise collection, operated under Home-Grown Industries of Georgia, Inc., is headquartered in Atlanta, Georgia. For 37 years, Mellow Mushroom Pizza Bakers has been serving up fresh stone baked pizzas to-order in an eclectic, art-filled and family-friendly environment. Each Mellow is locally-owned and operated with a unique feel focused around great customer service and high quality food.
###