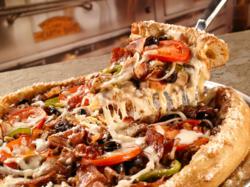 Being residents of Denton, we always knew Mellow would be the perfect fit for this city. Mellow Mushroom and Denton have a lot of similarities, as they both have "the same aesthetic appeal centered on music, unique architecture and art,"
Denton, Texas (PRWEB) October 04, 2011
Mellow Mushroom Pizza Bakers will be opening in Denton, Texas, on October 10th at 217 East Hickory Street. It will be located just off of the downtown square one block from the A-Train station. This Mellow, which marks the fourth in the state of Texas, is the second location owned and operated by Martha and Monte Jensen.
The Jensen's are thrilled to bring Mellow Mushroom to the city of Denton. "Being residents of Denton, we always knew Mellow would be the perfect fit for this city. Mellow Mushroom and Denton have a lot of similarities, as they both have "the same aesthetic appeal centered on music, unique architecture and art," according to Martha.
The Mellow Mushroom menu puts a modern twist on traditional pizza making. The menu features a variety of pizzas, hoagies, salads, calzones and appetizers, using only the highest quality of ingredients. Vegetarian, vegan options and gluten-free crust are also available. Enjoy a full-service bar that has 28 unique draft beers, or join the Mellow Beer Club and make your way through 70 brews while earning rewards along the way.
This location seats 235 people and is designed to create a variety of smaller areas. These will include an open bar area, a partially covered patio, and an 8 top private booth known as the beer bottle shrine. In addition, the Mellow Saloon will seat up to 15 people, making it the perfect destination for private meetings and events.
This location is open 7 days a week, Sunday through Wednesday, 11 a.m. to 11 p.m., and Thursday through Saturday, 11 a.m. to 12:00 a.m. For more information on Mellow Mushroom Denton, visit http://www.mellowmushroom.com and follow us on Facebook at http://www.facebook.com/MellowMushroomDenton.
About Mellow Mushroom Pizza Bakers
Mellow Mushroom Pizza Bakers (http://www.mellowmushroom.com) was founded in 1974 in Atlanta, Georgia. This franchise, operated under Home-Grown Industries of Georgia, Inc., is headquartered in Atlanta, Georgia. For 37 years, Mellow Mushroom Pizza Bakers has been serving up fresh stone baked pizzas to-order in an eclectic, art-filled and family-friendly environment. Each Mellow is locally-owned and operated with a unique feel focused around great customer service and quality.
Media Contact:
Tammy Lucich
tammy(at)mellowmushroom(dot)com
(404) 505-2801
###