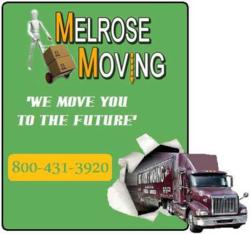 Los Angeles, CA (PRWEB) September 13, 2012
Melrose Moving Company announced a a new blog today, titled, "Tips for Disassembling Items For Your LA Move."
The article states that Quite often, the thing that people dread the most about moving is disassembling and reassembling. The thought of moving is not so bad, and most people are excited to get into their new place and have a new beginning. However, no one relishes the idea of spending hours taking large furniture pieces apart to prepare for the move. One of the solutions is to hire professional Los Angeles movers to do the job for you. But if you want to attempt to do everything yourself, read on for helpful tips.
When it comes to disassembly, many people want to grab a screwdriver and start to remove screws from an item. However, you want to make sure that you have everything you need first, which will prevent things from getting lost in the process. You should have boxes, zip lock bags, tape or labels, and colored markers. While you do not necessarily need colored markers, they will make things a little easier.
There is one constant problem that people have when it comes to disassembling furniture when moving, which is never remember how things go back together. All you have to do is draw a diagram or write directions to how you did the dissembling, so you can simply revert your steps. Taking a photo can also be a good option.
Unless you are a master at dealing electronics, when it comes to untangling the mess of your television, DVD player, gaming console, receiver, etc., you can run into some trouble. There are a lot of things to consider when disassembling and packing electronics. But if you can take your time to put a piece of tape on each component, and color each in different colors with a marker, you won't have to guess what cord plugs into which area.
Before you take apart your table, you need to know whether it has an apron or not. Some have metal braces that are secured to the inside of the apron and the underside of the table, others are glued. Multiple dowels are typically used to join the legs, and you will want to look for the large lag screw that should be under the table top on the inside of the leg. You can use a wrench to remove this screw.
If you run into trouble, remember that you can always rely on hiring Los Angeles Melrose Movers to do the job for you. But the more organized you are taking the smaller pieces apart the easier it will be to put them back together.
Melrose Movers Los Angeles makes moving a home or business easy and stress-free. No job is too big, no household too small for Melrose Moving. We help individuals, families, and businesses from all over the Los Angeles area move down the block or across town.
Melrose Moving will make any move smooth and efficient. How do they do it? Los Angeles movers are experts at professional packing and moving. The client is the boss at the move; they will personalize services to fit their needs. Before they start, they thoroughly explain all processes, policies, and pricing. With Melrose Moving, there are no unpleasant surprises and never any hidden charges. Then, professional movers arrive, and work quickly, but carefully, to pack and wrap belongings, and then transport them as safely as possible. They know that many of the belongings entrusted to their care may be irreplaceable. They will hold sentimental value, or be family heirlooms. Don't worry- they will treat them with the same care that they would their very own. They guarantee it! When the move is complete, they welcome any questions or comments. (The best advertising comes from referrals of many satisfied customers!)
Melrose Moving Company is a Los Angeles-based residential and commercial moving company. Originally established in 1999, and has been so popular that the owner started various other moving companies, such as 1 Los Angeles Movers, Movers Los Angeles, and Los Angeles Commercial Movers, all of which are operated by Melrose Moving. The moving company is licensed by the Public Utility Commission (PUC), and has an A rating with the Better Business Bureau (BBB). Melrose Moving accept cash, checks, credit cards, and Paypal.
For more information, visit our site.