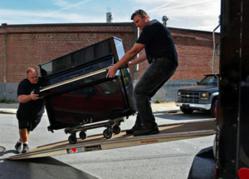 (PRWEB) May 13, 2013
Melrose Moving Company has released a blog providing tips on how to easily pack and wrap musical instruments during a move in Encino!
A mover will know best conditions needed to transport them in the safest manner. Packing and moving musical instruments is so unlike transporting household items. Instruments cannot just be simply packed in a box and thrown in the back of a truck. Remember their sensitivity and the fact that are many component parts. Any road bump can damage one of the parts.
Special containers are needed that can confer a higher degree of protection. Professional movers that work in this branch provide all logistic equipment required, including: containers that imitate shapes of the instruments, so they can fit, special containment units and boxes, lifting tools for heavier instruments and, of course, the vehicles need for relocation. Also their experience guarantees that the risk of collisions between items will be greatly reduced.
"Artists or musical instruments owners living nearby should hire an Encino moving company specialized in relocating these types of objects. The company will be offering great quality services at affordable prices!" said Russell Rabichev, Marketing Director for Melrose Moving.
Melrose Moving Company is a Los Angeles-based residential and commercial moving company. Originally established in 1999, and has been so popular that the owner started various other moving companies, such as 1 Los Angeles Movers, Movers Los Angeles, and Los Angeles Commercial Movers, all of which are operated by Melrose Moving. The moving company is licensed by the Public Utility Commission (PUC), and has an A rating with the Better Business Bureau (BBB). Melrose Moving accepts cash, checks, credit cards, and Paypal.
For more information, click on http://encinomovingcompany.com/. Call now: 1.800.431.3920.