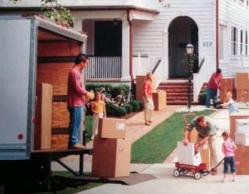 (PRWEB) May 11, 2013
Melrose Moving Company has released a blog explaining the reasons why people need to hire a professional moving company when they want to relocate!
The blog mainly exposes the reasons why people from Westchester must hire a professional moving company. Many fail to notice the moving companies available or they do not realize a professional mover's full potential.
Planning an efficient strategy, with minimum costs and time spent is what a mover can provide to any customer.
It is essential to contact a moving company in the right amount of time so they can also prepare with all available logistics and schedule the relocation. Consult with a team of experts and tell them all your needs. Safety and timing are the main concerns that an owner can have.
Rest assured because any professional mover will commit its full responsibility in preserving the total integrity of the whole load. Items can be ordered and packed so there can be no dangerous gap in between. Packing can be also be made faster and safer, with the help of large containers and safely sealed lockers.
"Westchester Moving Company has deep background knowledge and can handle any task, no matter how difficult and urgent it may seem. We have an elite personnel, both managerial and workers that will provide affordable and great quality moving services!" said Russell Rabichev, Marketing Director for Melrose Moving.
Melrose Moving Company is a Los Angeles-based residential and commercial moving company. Originally established in 1999, and has been so popular that the owner started various other moving companies, such as 1 Los Angeles Movers, Movers Los Angeles, and Los Angeles Commercial Movers, all of which are operated by Melrose Moving. The moving company is licensed by the Public Utility Commission (PUC), and has an A rating with the Better Business Bureau (BBB). Melrose Moving accepts cash, checks, credit cards, and Paypal.
For more information, click on http://www.melrosemoving.us. Call now: 1.800.431.3920.