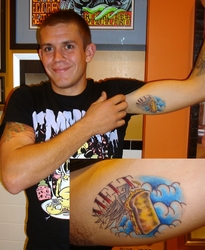 The Parmageddon is incredible -- one of the best sandwiches ever, and Matt is truly crazed! - Guy Fieri, host of Diners, Drive-Ins and Dives
Lakewood, OH (PRWEB) December 18, 2009
While tattoos are known for representing personal affirmations and life experiences, fans of Melt Bar and Grilled get a discount for life if they chose to adorn the restaurant logo anywhere on their body.
Starting Sept. 1, Melt fans from mothers to high-ranking professionals, who choose to ink the grilled cheese sandwich and cross bones logo on their bodies will receive a permanent 25% discount from the Cleveland establishment. Encouraged to use creativity, people have chosen everything from vampires and zombies to cupids with hearts and even a beaver eating the sandwich logo.
As of today, and to owner Matt Fish's surprise, more than 50 fans have chosen to make Melt Bar and Grilled a permanent part of their lives.
Melt has gained national exposure from The Food Network, "USA Today" and "Esquire" magazine for amazing gourmet grilled cheese sandwiches, an extensive beer list and funky atmosphere. One of Melt's signature grilled cheese sandwiches, The Parmageddon, (stuffed with cheese and potato pierogi, fresh Napa vodka kraut, onions and cheddar cheese, named in honor of Fish's hometown of Parma, Ohio) was recently mentioned on the "Late Show with David Letterman." And according to Guy Fieri, host of The Food Network's "Diners, Drive-Ins and Dives," "The Parmageddon is incredible -- I still think about it, one of the best sandwiches ever, and Matt is truly crazed!"
Matt Fish is no stranger to tattoos, as his body displays well over 35 pieces of work, everything from the old Cleveland Municipal Stadium to several Kiss designs. Fish explained his eclectic mix of body art as a collection of memories.
"They are symbols of parts of my life I never want to forget," he said. "I got my first Kiss album, 'Dressed to Kill,' when I was 6 years old. It started me down a rock 'n' roll path in my life. My Cleveland tattoos represent my love for this town. I decided early on in my life I was going to stay in Cleveland. It's a tough town and I knew I'd have to be really good to impress these people. (With Melt,) I wanted to do something completely different, and people got excited about it."
While Fish is constantly thinking of ways to give back to Cleveland and his fans, he recently had the pleasure of making his signature sandwich and showing his tattoos to music icon and Kiss guitarist Ace Frehely.
With the number of grilled cheese logo tattoos growing, national accolades and an hour-long waiting list to dine, Melt is on it way to becoming a food superstar.
You can learn more about Melt Bar and Grilled, Matt and his tattoos when they are all featured on The Food Network's "Diners Drive-ins and Dives" on February 8th. Or visit http://www.meltbarandgrilled.com
# # #