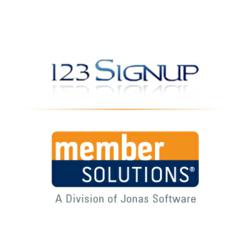 Member Solutions and 123Signup share an aligned vision that complement one another.
Hatboro, PA (PRWEB) April 30, 2013
Member Solutions, a leading provider of full-service membership billing, and web-based software for front-desk operations, member management, online event registration, credit card processing, and member communications, announced today that it has acquired 123Signup, a leading SaaS provider of online event registration and membership management software solutions for trade, individual, and family membership-based associations. With this acquisition, Member Solutions enters a new vertical market and enhances its leadership position in helping membership-based organizations operate more efficiently through integrated SaaS solutions.
"Member Solutions and 123Signup share an aligned vision that complement one another", said Steven Pinado, CEO of Member Solutions. "For over 20 years, Member Solutions has provided leading-edge software solutions for the Health and Fitness business industry. We're thrilled to extend our reach and confident the team at 123Signup will help us progress further into the association vertical market."
Corporate, trade, and family associations, chapter and alumni clubs, colleges, universities, and training organizations use 123Signup's set of integrated on-demand tools to manage memberships, as well as market and manage training events, meetings, and conferences. Built-in tools for fundraising, email and social media marketing, membership enrollment and renewal, payment processing, and reporting are designed to help associations of all sizes automate administrative tasks while increasing membership enrollment, renewal, and event attendance.
For more information on 123Signup's integrated event, membership, and marketing services, visit http://www.123signup.com/
About 123Signup
123Signup is a leading SaaS provider of full-featured and fully-integrated solutions for member- and subscriber-based organizations. Services include online event management, membership management, training and seminar management, and subscription management. For more information, visit http://www.123signup.com/.
About Member Solutions
Member Solutions, a division of Jonas Software, has built its business on an unwavering commitment to serving membership-based organizations. The company operates a proprietary payment processing platform and is the leading provider of billing, servicing, and business support to more than 3,000 membership businesses in the United States, Canada, and Australia. The company also offers web-based applications for front-desk member management and online event registration that are fully integrated with its PCI-Compliant payment processing platform. Visit Member Solutions at http://www.membersolutions.com.