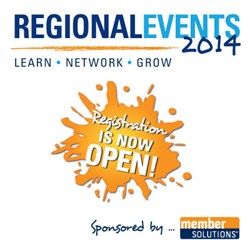 With the success of our Business Bootcamp event, we're proud to expand our educational and networking initiative with Regional Events across North America.
Hatboro, PA (PRWEB) November 19, 2013
Member Solutions today announced the launch of a new event series for Martial Arts and Fitness business professionals. The events will take place in cities throughout North America and feature successful business owners that are part of Member Solutions industry-leading Advisory Team.
"With the success of our Business Bootcamp event, we're proud to expand our educational and networking initiative with Regional Events across North America," said Joe Galea, Senior Vice President of Client Relations and Business Development. "We are grateful to have the most successful school owners as part of our Advisory Team who are enthusiastic about being involved and giving back in this special way to help the industry."
Attracting new members and retaining existing members is critical to the success of membership businesses. Because of this, each regional event is purposefully designed to provide an exchange of best-practice marketing, selling, enrollment and retention strategies. Events will give participants the opportunity to build their professional network and take concrete action steps and development plans back to their business for continued growth.
Scheduled regional events include:

Master Tommy Lee's Success University. This event will take place at East Coast Martial Arts on January 17, 2014 in Annapolis, Maryland. Participants of this course will build an action plan to leverage business strengths and overcome areas of weakness.
Chris Robinson's Business Growth Course. This course will take place at Robinson's Karate Schools on February 21, 2014 in Newmarket, Ontario. The course is divided into four parts: marketing planning and development, student service strategies, staff development and training practices and adult enrollment strategies. All strategies are used in Robinson's Karate Schools for continued growth and development.
Hanshi Greg Tearney's Guide to School Ownership Success. This event will take place at Tearney's Martial Arts on March 7, 2014 in Camillus, New York. Focused on three main areas, this course will teach participants how to attract new members, retain members and effectively renew memberships to sustain and build a successful business.
Future regional events are under development with the creator of the acclaimed iLoveKickboxing.com Fitness Franchise and FC Online Marketing, Michael Parrella, Founder and CEO of Kovar's Satori Academy of Martial Arts and Kovar Systems, Kyoshi Dave Kovar, Founder of TakingIttotheNextLevel.com, Shihan Allie Alberigo and Owner of Tri-Star Martial Arts, Duane Brumitt.
For more information on upcoming regional events, hosts and locations, visit Member Solutions Regional Events Calendar.
About Member Solutions
Member Solutions has built its business on an unwavering commitment to serving clients in the Martial Arts business industry and related-Fitness categories. The company operates a proprietary payment processing platform and is the leading provider of billing, servicing and business support to more than 3,000 membership businesses in the United States, Canada and Australia. The company also offers web-based applications for front-desk member management and online event registration that are fully integrated with its PCI-Compliant payment processing platform. For more information, visit the Member Solutions website.