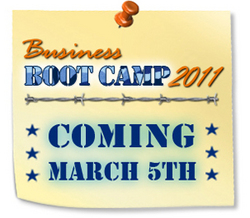 The BootCamp event aligns with Member Solutions' goal to support the growth of membership-based businesses.
Jenkintown, PA (Vocus) October 21, 2010
Member Solutions announces open registration for its second annual Martial Arts Business BootCamp in Philadelphia, taking place on March 5, 2011.
The conference will focus on the best marketing, sales, enrollment and retention practices for the Martial Arts business community. The 2011 BootCamp is an opportunity for Martial Arts school owners, and their management team, to learn from some of the best in the industry.
Presenters include:

Kyoshi Allie Alberigo, Owner of Long Island Ninjutsu Centers and TakingItToTheNextLevel.com
Robby Beard, Martial Arts Industry Association (MAIA) Elite Consultant
Mike Chat, XMA Founder
Mark Dumas, Owner of seven Championship Martial Arts schools
Master Tommy Lee, Owner of East Coast Martial Arts and Founder of Step-by-Step Success (SBSS)
Barry Van Over, CEO of Premier Management Group
Michael Parrella, CEO of Full Contact Online Marketing
Cody Pepper, Owner of ATA Karate & Life Skills Training
Tony Thompson, Founding Partner with Ernie Reyes of West Coast Martial Arts Association
And more
Nearly 100 well-known industry experts, prominent martial artists, school owners, vendors, and Member Solutions staff attended last year's event. Member Solutions expects to exceed that number this year.
"The BootCamp event aligns with Member Solutions' goal to support the growth of membership-based businesses." says Joe Galea, President of Member Solutions. "We are thrilled to provide this exceptional learning and networking experience again to the Martial Arts community in 2011."
The event program is currently under development but is anticipated to have two speakers presenting at all times throughout the day, early-morning workout/training sessions, and exhibitors. Attendees will also enjoy a continental breakfast, catered lunch, and an evening cocktail reception to network with fellow Martial Arts Professionals.
"Before I even left the event, I signed 3 new students and upgraded 4 through the online social networking ideas and business tips I learned at the BootCamp. It was worth every minute." said Jeremy Brousseau, 2010 BootCamp Attendee and Owner of ShoDan Karate in West Warwick, Rhode Island.
Anyone interested in attending the event is invited to visit the conference Web site at http://www.MemberSolutions.com/BootCamp2011 to learn more about conference developments and make preparations to attend.
About Member Solutions
Member Solutions is a leading provider and innovator of solutions for membership-based businesses. The company serves over 2,200 locations in the United States, Canada, and Australia. The Member Solutions team services more than 100,000 memberships each month, and processes over $120 million in payments annually.
For more information, contact:
Steven Pinado
267-287-1070
###