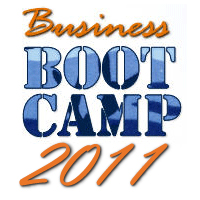 BootCamp is a great opportunity for us to further connect with our clients, and support their business, said Member Solutions CEO, Steven Pinado
(Vocus/PRWEB) March 31, 2011
Over 100 Martial Arts school owners, program directors, and instructors gathered in Philadelphia on March 5 and 6 to attend Member Solutions' annual Business BootCamp. The conference gave attendees the opportunity to come together, network, share best practices, and learn from some of the best in the business.
On March 5th, participants enjoyed a selection of twelve hour-long educational seminars featuring a prestigious speaker line-up of Allie Alberigo, John Bussard, Mike Dolpies, Mark Dumas, Rick Ellis, Jerry "Fast Feet" Fontanez, Kimber Hill, Tommy Lee, Michael Parrella, Cody Pepper, Tony Thompson, and Barry Van Over.
Day two included four in-depth, hour-long workshops where attendees learned industry-proven marketing, event planning and finance strategy, followed by a detailed success course for creating profitable summer camps.
"The BootCamp program was great. I'm leaving with tons of new ideas and feeling renewed and inspired. I can't wait to get back in my school and start putting it all into action," said BootCamp attendee and Member Solutions client, Joseph Valentino of Family Martial Arts Center, River Edge, New Jersey.
Throughout both days, attendees had the opportunity to meet with the Member Solutions team, discuss business growth plans and learn more about Member Solutions' new and enhanced product offerings.
"BootCamp is a great opportunity for us to further connect with our clients, and support their business," said Member Solutions CEO, Steven Pinado. "I am thrilled with this year's program and thank the presenters for providing such fresh, new ideas and insight."
Online registration for Business BootCamp 2012 will open soon. Visit http://www.membersolutions.com/bootcamp2012 to receive BootCamp 2012 updates and early-bird pricing.
About Member Solutions
Member Solutions is a leading provider and innovator of solutions for membership-based businesses. The company serves over 2,200 locations in the United States, Canada, and Australia. The Member Solutions team services more than 100,000 memberships each month, and processes over $120 million in payments annually.
For more information, contact:
Steven Pinado
267-287-1070
# # #