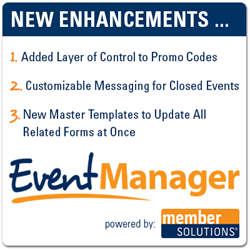 This release provides increased efficiency by enhancing our core management and marketing tools.
Hatboro, PA (PRWEB) February 27, 2014
Member Solutions today announced the release of a new set of enhancements to its online event registration software, Event Manager. Member Solutions is the leading provider of full-service membership billing, payment processing and member management software solutions for membership businesses.
"Every organization wants to work faster and more efficiently," said Steven Pinado, CEO for Member Solutions. "This release provides increased efficiency by enhancing our core management and marketing tools."
Membership organizations of all kinds, including Martial Arts schools, sports leagues, camp operators, tournament organizers and Fitness clubs, use Event Manager online event registration software to accept event registrations and payments online. The software comes with a set of management and marketing utilities to increase registrations and revenue while improving operational efficiency.
The latest release provides an additional layer of control to promotional discount codes. Users can now set capacities, activation dates and expiration dates to promotional codes to drive demand and increase registrations. The software automatically deactivates the code at expiration or when the code's capacity is met. This control feature for promotional codes is especially useful for those running specials on Amazon, Groupon and other deal of the day sites.
With this new release, Event Manager users can also create and post messages on registration pages that are not yet active or have closed because the event has passed or reached its capacity. This enhancement provides yet another place for users to promote upcoming events and specials to increase engagement and facilitate registrations.
Master templates have also been added with the latest Event Manager software release. Master templates enable software users to make mass updates to all related forms at once by updating its corresponding master template.
For more information on the Event Manager online event registration software or to register for a free trial, visit MemberSolutions.com/EventManager.
About Member Solutions
Member Solutions has built its business on an unwavering commitment to serving clients in the Martial Arts business industry and related-Fitness categories. The company operates a proprietary payment processing platform and is the leading provider of billing, servicing and business support to more than 3,000 membership businesses in the United States, Canada and Australia. The company also offers web-based applications for front-desk member management and online event registration that are fully integrated with its PCI-Compliant payment processing platform. For more information, visit Member Solutions.