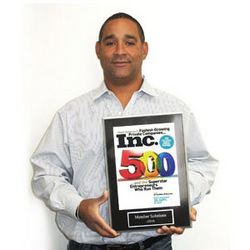 We are honored to be a member of the Inc. 5000
Jenkintown, PA (Vocus) September 22, 2010
Member Solutions has been named one of the fastest-growing companies in America by Inc. Magazine, in its 2010 Inc. 500 / 5000 list. The list represents a comprehensive look at the most important segment of the economy—America's independent-minded entrepreneurs.
"We are honored to be a member of the Inc. 5000," said Member Solutions CEO, Steven Pinado. "The tribute is a testament to our team's hard work and dedication in spite of a very rough and challenging economy."
Member Solutions ranks as the 555th fastest growing privately-owned enterprises in the United States within the Business Products and Services industry. Member Solutions leverages its proprietary payment processing platform to be a leading provider of full-service membership billing and servicing, and offers a constantly evolving suite of complementary on-demand applications for front-desk management, credit card processing, online registration and payments, and member management. The company serves clients across North America in several membership categories such as fitness, dance, martial arts, gymnastics, cheerleading, sports leagues, music, and more.
"The leaders of the companies on this year's Inc. 5000 have figured out how to grow their businesses during the longest recession since the Great Depression," said Inc. president Bob LaPointe. "The 2010 Inc. 5000 showcases a particularly hardy group of entrepreneurs."
Despite the fact that most of this year's measuring period of 2006-2009 took place during the latest recession, aggregate revenue among the companies on the list actually increased to $321.6 billion, up more than 50 percent from last year. The effects of the recession are seen, however, in the median three-year growth rate, which dropped to 96 percent from last year's 126 percent. This year's Inc. 5000 employ a record 1.4 million people, up from one million on last year's list. With unemployment remaining stubbornly high, policymakers and business leaders will do well to look to the Inc. 5000 companies for fresh ideas on achieving growth and creating jobs.
Complete results of the Inc. 5000, including company profiles and an interactive database that can be sorted by industry, region, and other criteria, can be found on http://www.inc.com/inc5000/2010/index.html.
About Member Solutions
Member Solutions is a leading provider and innovator of solutions for membership-based businesses. The company serves over 2,200 locations in the United States, Canada, and Australia. The Member Solutions team services more than 100,000 memberships each month, and processes over $120 million in payments annually.
About Inc. Magazine
Founded in 1979 and acquired in 2005 by Mansueto Ventures LLC, Inc. is the only major business magazine dedicated exclusively to owners and managers of growing private companies that delivers real solutions for today's innovative company builders. With a total paid circulation of 712,647, Inc. provides hands-on tools and market-tested strategies for managing people, finances, sales, marketing, and technology. Visit us online at http://www.inc.com/.
For more information, contact:
Steven Pinado
267-287-1070
###