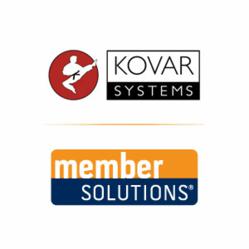 Joining forces with Kovar Systems affirms our allegiance to empowering our clients with best-in-business tools.
Hatboro, Pennsylvania (PRWEB) June 10, 2013
Member Solutions today announced a new collaborative partnership with Dave Kovar, and Kovar Systems, the leading provider of proven business systems products for Martial Arts staff training, student acquisition and retention. Through this partnership, and Member Solutions' exclusive consulting and networking program, Martial Arts businesses can gain proven tools and guidance for optimizing Martial Arts instructor development and business growth.
"We decisively partner with companies that share our mission — to help membership businesses operate more efficiently and achieve great success," said Joe Galea, Senior Vice President of Client Relations and Business Development. "Joining forces with Kovar Systems affirms our allegiance to empowering our clients with best-in-business tools."
Through the collaboration, Dave Kovar has officially joined the Member Solutions Business Advisory Team to provide ongoing guidance to the Member Solutions client community. Member Solutions clients will also receive exclusive discounts to subscribe to Kovar Systems products. Co-sponsored educational events are currently under development as an additional component to the partnership.
"Kovar Systems is dedicated to helping Martial Arts schools grow and thrive," said Dave Kovar, Founder of Kovar Systems. "We are thrilled to form this partnership with Member Solutions to bring Kovar Systems' proven tools and best practices to thousands of Martial Arts schools."
Kovar Systems delivers a full suite of business development products for Martial Arts school owners and operators, including Dave Kovar's Instructor Toolbox and ProMAC (The Professional Martial Arts College). Dave Kovar's Instructor Toolbox is hailed as an industry standard for Martial Arts instructor development. ProMAC provides individual coaching, a complete resource library, quarterly conferences and trainings, and ProMAC365 – a detailed list of what to do every day and week of the year when running a Martial Arts school.
About Member Solutions
Member Solutions, a division of Jonas Software, has built its business on an unwavering commitment to serving clients in the Martial Arts and related Fitness business categories. The company operates a proprietary payment processing platform and is the leading provider of billing, servicing and business support to more than 3,000 membership businesses in the United States, Canada, and Australia. The company also offers web-based applications for front-desk member management and online event registration that are fully integrated with its PCI-Compliant payment processing platform. Visit Member Solutions at http://www.membersolutions.com.
About Kovar Systems
Dave Kovar has been a thought leader, innovator and "teacher of teachers" in the Martial Arts Industry since opening his first Martial Arts school in 1978. Kovar's Satori Academy now operates eight schools in Sacramento, averaging 325 students and $45K per month. Owning and operating successful schools gives Dave Kovar and his team a unique opportunity to develop and refine highly effective processes and systems for running successful schools. Dave launched Kovar Systems in 2003 to assist other Martial Arts owners and operators in running their schools at peak efficiency. Kovar Systems is dedicated to delivering products that combine the industry's best practices with the latest technologies for optimal efficiency and impact. Visit Kovar Systems at http://www.kovarsystems.com.