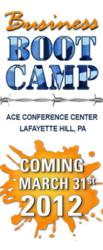 We're thrilled to provide this great learning and networking experience to the Martial Arts community each year.
Hatboro, PA (PRWEB) December 13, 2011
Member Solutions announces open registration for its third annual Martial Arts Business Bootcamp taking place on Saturday, March 31st and Sunday, April 1st in Lafayette Hill, Pennsylvania.
In one weekend, Martial Arts school owners, and their management teams, will learn the latest and best practices for marketing, selling, enrolling and retaining members from some of the best in the business including:

Kyoshi Allie Alberigo, Founder of TakingItToTheNextLevel.com and Owner of Long Island Ninjutsu Centers
Andy Gole, Founder of Bombadil LLC and Urgency Based Selling®
Master Tommy Lee, Founder of Step-by-Step Success (SBSS) and Owner of East Coast Martial Arts
Mike Metzger, MAIA Elite Consultant and Managing Member of Championship Martial Arts
Michael Parrella, Founder of iLoveKickboxing.com and CEO of Full Contact Online Marketing
Cody Pepper, Owner of I Can Martial Arts
And more
"We're thrilled to provide this great learning and networking experience to the Martial Arts community each year. Bootcamp 2012 will be especially exciting," says Joe Galea, President of Member Solutions. "We're including new hands-on workshops where attendees will receive guided tutorials and in-person business training to reinforce learning and provide tangible results on the spot."
The event program will include innovative business seminars, interactive workshops, workout/training sessions, and an exhibit area. Attendees will also enjoy continental breakfast, a catered luncheon and an evening cocktail reception provided by Wolfgang Puck Catering.
The event is open to all Martial Arts school owners and staff. Visit the conference website, MemberSolutions.com/Bootcamp2012 or call 888.277.4409, to learn more about the conference.
About Member Solutions
Member Solutions, a division of Jonas Software, has built its business on an unwavering commitment to serving clients in the Martial Arts and other fitness categories. The company operates a proprietary payment processing platform and is the leading provider of billing, servicing, and business support to more than 2,200 membership businesses in the United States, Canada, and Australia. The company also offers web-based applications for front-desk member management and online event registration that are fully integrated with its PCI-compliant payment processing platform.
For more information, contact:
Steven Pinado
267-287-1070
###