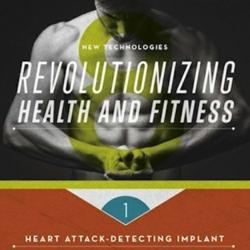 Scottsdale, AZ (PRWEB) June 18, 2013
As a leading provider of telehealth and telemedicine services MeMD, Inc proudly announces the release of their infographic - "8 New Technologies Revolutionizing Health and Fitness".
MeMD's goal was to leverage an information graphic to highlight the ever-changing landscape of Health 2.0, Health 3.0 and mHealth.The infographic features a list of technologies that will likely transform medical care and the fitness industry in unimaginable ways; turning science fiction into science fact.
Infographic highlights include:
Scanadu Scout: mHealth is the epitome of convenience. This small device will bring sci-fi to life as it works by placing it on the forehead and seconds later it displays blood pressure, heart rate, oxygen level and body temperature.
HealthKeep: Health 3.0 is in our midst with HealthKeep's social health network, where users can sign up anonymously, share health experience, keep a record of their symptoms and illnesses and follow their medical providers.
LIT: Extreme sports can finally be tracked with LIT from NZN Labs, it measures movements from action sports while encouraging social sharing and competition.
MeMD's stunning new infographic is available for immediate viewing and social sharing at: http://www.memd.me/new-health-technologies/8-technologies-revolutionizing-health-fitness
About MeMD
Headquartered in Scottsdale, Arizona, MeMD, Inc is revolutionizing the healthcare industry by offering access to affordable, convenient, on-demand and secure web-based health care. MeMD combines proven telemedicine technologies with business model innovations to improve access to medical providers, reduce healthcare costs, and make the experience of seeing a physician convenient, enjoyable, and affordable – the way it should be.
Through MeMD, most patients are seen and treated in thirty minutes or less with no drive time or wait time at the doctor's office. No insurance is necessary and there is no membership fee or commitment to sign-up. For more information visit MeMD.me
To inquire about MeMD's Employer Based Telemedicine Solutions call MeMD's Vice President of Business Solutions, Kevin Walquist at (480) 339-5003